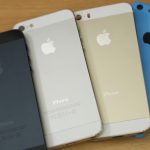 It is considered relatively certain that Apple will release both an iPhone 5S (the improved version of the iPhone 5) and an iPhone 5C ...will introduce you. The latter is the more exciting product, because if the rumors are true, it will be a cheaper version with a colorful plastic casing.
The technical data of the iPhone 5C should largely be in line with the current iPhone 5 whether LTE will be included is still open (and perhaps Apple will surprise with significantly different specifications). Apple is said to be working on a six-inch device as well, but this will almost certainly not be presented on Tuesday, but will only be released next year - if at all.

iOS 7 - is a jailbreak coming?
It still seems to be open, whether for the also appearing iOS 7 a jailbreak is imminent. So far there are only a few reports on this topic, but even though iOS 7 comes with many features that make a jailbreak superfluous for many users, there will surely be users who want to free their device again. The opinion that a iOS-7 jailbreak would not be worthwhileI don't share that - someone will surely find it, and also the developers who distribute their apps through the Cydia store have an interest in a jailbreak for iOS 7.
Is the iPad Mini Retina coming?
Already with the release of the iPad mini, many people missed the "Retina" resolution, which has been popular since iPhone 4 and iPad 3 and which displays straight text much sharper than on previous Apple devices. For the iPad mini, this would mean that it would have the same resolution as iPad 3 and 4 (2,048×1536 pixels) and a significantly higher pixel density due to the smaller display. This would make iPad mini a much more exciting tablet than it already is, especially in the LTE version for on the go.
Is it time for the iWatch?
Also a rumour: is a Smartwatch from Apple coming? Samsung has already presented the Galaxy Gear at the IFA, as has Sony. Apple expects a Smartwatch to be much more sophisticated and suitable for everyday use than previous models from competitors. But there is no concrete information on this topic yet, one will have to wait until Tuesday to see if Apple will present a watch.
So it will be exciting again, like before almost every Apple event. Unlike in the early years of iPhone & Co., however, the secrecy is weakening - many things are already known in advance, so the suspense is no longer quite as great. Tuesday, 19:00 we will definitely find out more.