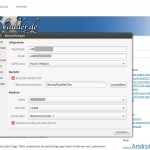 If you use a Fritz!Box and want to send faxes or MacOS X under Linux, you can use ffgtk or the further development "Roger Router".
This adds a new printer that makes sending faxes much easier. I tried this with Ubuntu 13.04 (after Fritz!Fax under Windows 8 didn't want to find my Fritz!Box 7390, I installed Ubuntu in a VM). The installation of Roger Router is quite simple: first the Download suitable packages (via the OpenBuild service, ready-made packages are available for the various Ubuntu variations). You need the following files, the plugins are optional and can be installed as desired, e.g. to display notifications:
libcapi20-3_20120610-216~raring
libroutermanager_1.8.0-0ubuntu1~raring
roger_1.8.0-0ubuntu1~raring
Installation and configuration of Roger Router
The packages must also be installed in this order for the dependencies to be resolved correctly. This can be done simply by clicking on the appropriate *.deb files and the Ubuntu package manager. After installation, the user who sends faxes must be added to the group "fax", otherwise it will not work. And: Roger router must be started before the printing process is started as a fax - unfortunately the automatic start of the program does not work on my installation.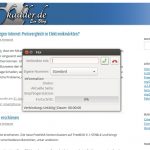 Hint: If you don't use the Fritz! box via VoIP but use it with a classic ISDN connection, you have to select the appropriate connection in the settings: "Internet" won't work then, with my setup "ISDN-Controller 1" is the right one.
You should also adjust the directory for the shipping reports to your preferences, so that the home directory is not "filled up". If all settings are done and Roger Router finds the Fritzbox you can start sending faxes. If you have problems you can find some hints here, if something doesn't work out:
Login data of the Fritzbox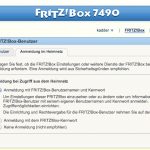 In order for Roger Router to log on to the Fritzbox, it expects a user name and password. By default, however, the Fritzbox is configured to require only a password, not a username. The corresponding form in Roger Router cannot be saved (this was different in older versions).
The solution: the Fritzbox must also request a login with username and password in the local network (this also applies to the web interface of the Fritzbox). When you create a user, you have to remember the data, otherwise you might not be able to access the web interface of the Fritzbox.
Faxing to IP connection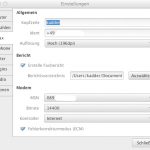 Those who have a newer DSL connection have mostly got an IP connection, where the Fritzbox is directly connected to the telephone socket. Faxes can also be sent via this connection (at least with Telekom) using Roger routers, simply select "Internet" as controller (see screenshot on the left).
But I don't know if this works on every IP connection - with Telekom as provider it works, with other providers it depends on a trial.
Conclusion Roger Router 1.80
With Roger Router there is a simple fax solution under Linux that works with the Fritz!Box. The software supports even more functions (e.g. a soft phone so that you can make calls on your PC and a call list). Also the reverse search of phone numbers in the call list is handy to see who has called. Users of a current Fritz!Box should definitely take a look at Roger Router.
A small update: Roger Router works smoothly not only with Linux, but also with MacOS X 10.10.1 "Yosemite". You can also use the print function, you simply get another printer displayed - handy if you need to send a fax from time to time.