Whoever sets links on other pages, be it in comments or guest contributions, naturally wants to know whether these links remain or are quietly deleted after some time. Beside paid solutions there are also PHP scripts that can be used for free. Such a script will be presented here briefly: BLAM - Backlink Analyser and Monitor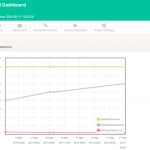 The system requirements for BLAM are kept relatively simple, if a WordPress is working on the web space, this script should also have no problems. Requirements are Apache or Nginx as web server, PHP from version 5.3 and a MySQL database.
After the short guided installation, which actually only requires the database login data, it is possible to login to the interface where the projects (or the project, as BLAM only supports a single project) can be managed.

Any number of backlinks can be monitored per project: either entered manually or uploaded via CSV. It is not necessary to specify the link target on your own page, it is sufficient to specify the linking URL, the script does the rest.
What data is collected?
An update of the referring pages can be started by hand, but the script only makes sense if you run it once a day via cronjob. This way you will quickly notice if a link has been removed somewhere or if a blog comment has been released after all. The most important data collected by BLAM:
Link target and link text
nofollow and "do follow"
PageRank of the linking page
Outgoing links of the linking page (internal and external)
Google Cache, to make sure that the linking page is still in the index
Social signals of the linking page (Facebook Likes, Google+, Twitter)
Alexa values of the linking page
IP address and status code of the linking page
If you have a MOZ-API account, you can still add data from the Open Site Explorer (OSE). These metrics not only give you an overview of which links were set with which text, but also whether the linking websites are still online. Especially for smaller projects, BLAM is a practical way to monitor links.
Conclusion BLAM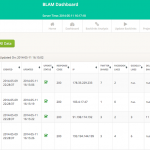 The Backlink Analyser and Monitor (BLAM) is an interesting script, which helps especially small site operators and users who just want to see if there are any links to their content. Unfortunately the monitoring list lacks a clear signal if a link is offline - a traffic light with green for follow, yellow for nofollow and red for offline could help here, maybe a corresponding function will be integrated in the next version. Another pity: there is only a detour to enable BLAM for several projects, the developers should improve this.
The current version BLAM 1.01 can be downloaded from the website reviewzap.com.
Update 31.08.2014
After a good three months I can say: the free script works wonderfully - links are detected reliably and the Google cache status is also displayed. Practical if you want to keep an eye on the backlink structure of your own site.