The last years kadder.de was running on a JiffyBox from Domainfactory - until I switched back to a "real" server from Hetzner.
The costs are practically the same: the cloud level 2 with SSD at Domainfactory costs a maximum of 37.20 Euro per month - the Hetzner server from the server auction 39.00 Euro. But what do you get for less than 40 Euro in hosting? A comparison:


So on paper, there is at the root server - at least if you can get a bargain like at the server auction. Regularly the root servers start at 49,- Euro/month at providers like Hetzner, but then offer a little less performance than the "used model" I use: Hetzner offers servers through the auction that were already in use. This means that extra features like Intel network cards or ECC RAM with error correction are available at a reasonable price.
Via lightning.io I made a short performance comparison between hosting on the previous Domainfactory cloud server and the Hetzner root server: root server and Cloud server have a similar performance over long distances in this test: 757 milliseconds (root) vs. 794 milliseconds (cloud) average response time with SSL are good values. However, there are differences in the total number of requests that can be answered in 2 minutes: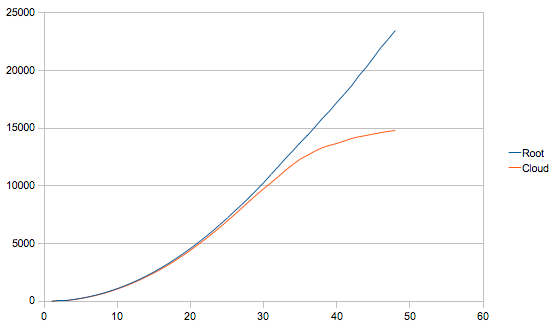 (Preliminary) Conclusion
As you would expect, the full-fledged root server has significantly more "bangs" and also manages a very large number of requests. In addition, the time-to-first-byte is very low, with much lower values than the cloud solution. The 3 terabytes of storage space are also sufficient for applications with large storage requirements, e.g. a photo blog or videos. But you lose the flexibility and the daily automatic backups - especially if you "play around" a lot this can be very practical. In addition, you can clone the cloud server in an emergency and create new instances.
Ultimately, it depends on the concrete purpose: if you want to experiment, a cloud server is the best choice. If, on the other hand, you want to get as many visitors as possible, there is still no way around a root server. Both are possible for under 40 euros a month.