Die Raspberry Foundation hat eine Überarbeitung des Raspberry 3 vorgestellt: das Modell 3B+. Mehr Takt und bessere Netzwerk-Anbindung sind die wesentlichen Merkmale.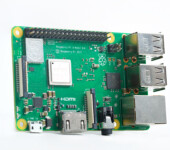 Das Format ist das selbe geblieben, bestehende Projekte mit einem Raspberry Pi können einfach auf das neue Modell geupgraded werden – sofern der Takt, der beim neuen Modell auch unter Dauerlast höher ausfallen soll, der limitierende Faktor ist.
Die Daten im Überblick:
1.4 GHz 64-bit quad-core ARM Cortex-A53 CPU (BCM2837B0)
Dual-band 802.11ac wireless LAN and Bluetooth 4.2 (BCM43455)
Faster Ethernet (Gigabit Ethernet over USB 2.0, LAN7515)
Power-over-Ethernet support (with separate PoE HAT)
Improved PXE network and USB mass-storage booting
Improved thermal management
Nach wie vor ist der Ethernet-Anschluss über USB-2.0 angebunden (LAN7515), was vor allem für Media-Player-Projekte ein limitierender Faktor sein kann. Zumindest wird eine höherer Bandbreite erreicht als bisher. Verbesserungen gibt es ebenfalls beim WLAN: der Funkchip BCM43455 unterstützt 2,4- und neu 5-GHz-Netzwerke, dazu Bluetooth 4.2.
Das neue Modell ist ab sofort verfügbar zum Preis des bisherigen Raspberry Pi 3B. Ein aktualisiertes Raspbian-Image steht ebenfalls bereits zum Download bereit. Wann eine wirkliche Weiterentwicklung in Form eines Raspberry Pi 4 auf den Markt kommt ist offen – vor 2019 wird dies wohl kaum passieren.