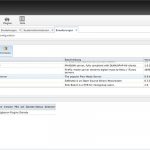 With the current FreeNAS version 9.1.x the plugin installation has been simplified considerably, and new plugins have been added. Very fresh: Plex Media Server as plugin for FreeNAS. This allows media files to be easily distributed in the network and brought to suitable clients.
The installation is very easy: if a plugin jail is already configured on FreeNAS, the Plex media server plugin simply downloaded and installed directly. After that, only one (or more) media directory needs to be mounted in the jail so that Plex Media Server can add the files to its database. Currently version 0.9.8.5 is available, which is the latest version of Plex Media Server.
More information about the Plex Media Server (which also apply to the FreeNAS plugin) are available on the Homepage of the project. In the FreeNAS Forum there is also a Thread on the topic. If you are still looking for a FreeNAS system you might find it in my Shopping list for a FreeNAS system based on HP-N54L Inspiration. But FreeNAS also runs very well on other systems.
Update 01.09.2014
On the previous HP G7 microservers, transcoding under Plex can be a problem. The newer G8 version offers more performance of the microserver, which can also be upgraded with a small Xeon processor. On the other hand, these systems are currently still considerably more expensive.