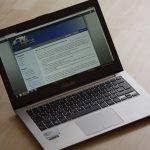 Yesterday DHL delivered the ASUS UX32vd in the variant with Full-HD-IPS panel and Nvidia GT 620M. After the installed Windows 7 Home Premium had completed its setup and the essential settings had been made (especially the pre-installed demo versions were uninstalled), it's now time for a short field report - it's still a bit early for a review, but after a few hours in use, I could already get a first impression.
First of all: the display is really very good. The viewing angle is stable (disadvantage: the person sitting next to you on the train can easily look at the screen), with a very high pixel density (1,920×1,080 on 13.3″). The latter means that you have to increase the text display in browsers etc. to at least 125% - but then everything is really very legible and razor sharp.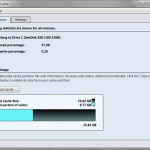 About the SSD cache (a SanDisk i100 with 32 GB, of which 4 GB are unused) a tool from Diskeeper provides information with which the cache can also be completely erased. After a few hours, a good 60% of read accesses come out of the cache, which should increase over time.
Otherwise the performance is quite good, for typical work areas it is easily enough. Freed from additional software, the fan is also not active, so that the ASUS UX32vd-R4002V remains pleasantly quiet. The keyboard also has a pleasant pressure point, and you can type quickly without any problems (these lines are currently being created on the keyboard).
Nice are gimmicks like the automatic display brightness control, I haven't tried things like Face-Logon yet. Next week I'm planning to upgrade to 10 GB RAM - provided the chipset recognizes the additional 8 GB module. Then I will also take some pictures of the inner workings.
Update: my Corsair Vengeance 8 GB DDR3 SO-DIMM has arrived, this weekend I will upgrade to 10 GB.
Technical data of the U32Vd
Since there are some detailed questions, here are some technical key data, which are not in every shop:
the hard disk is 7mm high, an exchange SSD must have the same height. Otherwise standard SATA 6 Gb (Price comparison of corresponding SSD)
for RAM upgrade DDR3 with 1.600 MHz works as SO-DIMM (204 pins), with an 8 GB module (no kit) you get 10 GB
two small fans work in the UX32Vd - when they start is not quite clear to me, sometimes they turn up without warning
The battery is not protected by a warranty seal, but the base plate must be removed
For opening you need a Torx 5 screwdriver, the individual screws are very small
In a short Video of the UX32Vd-inside, it gives you an insight into how much space the battery takes up and how the fans are located. Once all screws have been loosened, the installation of additional memory is just a matter of seconds, I needed less than 30 minutes to get from 4 to 10 gigabytes.
Update 2:
If you want to compare it to a current MacBook Air 13.3 (Mid 2012): MacBook Air vs. Asus Zenbook UX32Vd: Ultrabooks in comparison. I now have both devices available.
Update 3:
If you want to use the SSD, which is actually intended for the transparent ExpressCache, in a different way or if you want to load important software into the ExpressCache in advance, you can find help in my corresponding entry: ASUS Zenbook UX32vd: Make better use of ExpressCache SSD.