Apple hat gestern die eigene Smartwatch-Linie vorgestellt – parallel dazu kam iOS 8.2. Neben Supprt für die Apple Watch enthält das Update auch weitere Verbesserungen.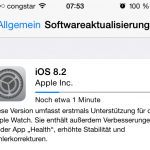 Das Update auf iOS 8.2 bringt abgesehen vom Support für Apples Uhr keine wesentlichen Neuerungen – das ist wohl erst mit dem nächsten "richtigen" Update auf iOS 9 mit der nächsten Generation an Apple Geräten zu erwarten. Leichte Vorteile bringt iOS 8.2 auch für ältere Geräte wie das Ipad 2 oder das Ipad 3 mit Retina Display: hier wurde die Performance leicht verbessert, was viele Nutzer beim Wechsel von iOS 7.1.x auf 8.0 bemängelt hatten.
Der komplette Changelog ist dann doch recht umfangreich und beinhaltet auch Änderungen für den Support von Exchange-Servern und verschiedene andere Verbesserungen.

Apple Watch support
New Apple Watch app to pair and sync with iPhone, and to customize Watch settings
New Activity App for viewing fitness data and achievements from Apple Watch; appears when Apple Watch is paired
Available on iPhone 5 and later
Health App improvements
Adds the ability to select the unit of measurement for body temperature, weight, height, distance, and blood glucose
Improves stability when dealing with large amounts of data
Includes the ability to add and visualise workout sessions from 3rd-party apps
Addresses an issue that may have prevented users from adding a photo in Medical ID
Fixes units for vitamins and minerals
Fixes an issue where Health data wouldn't refresh after changes data source order
Fixes an issue where some graphics showed no data values
Adds a privacy setting that enables turning off tracking of steps, distance, and flights climbed
Stability Enhancements
Increases stability of Mail
Improves stability of Flyover in Maps
Improves stability of Music
Improves VoiceOver reliability
Improves connectivity with Made for iPhone Hearing Aids
Bug Fixes
Fixes an issue in Maps that prevented navigating to some favorite locations
Addresses an issue where the last word in a quick reply message wasn't autocorrected
Fixes an issue where duplicate iTunes purchased content could prevent iCloud restore from completing
Resolves an issue where some music or playlists didn't sync from iTunes to the Music app
Fixes an issue where deleted audiobooks sometimes remained on the device
Resolves an issue that could prevent call audio from routing to car speakers while using Siri Eyes Free
Fixes a Bluetooth calling issue where no audio is heard until the call is answered
Fixes a timezone issue where Calendar events appear in GMT
Addresses an issue that caused certain events in a custom reoccurring meeting to drop from Exchange calendar
Fixes an certificate error that prevented configuring an Exchange account behind a third-party gateway
Fixes an issue that could cause an organizer's Exchange meeting notes to be overwritten
Resolves an issue that prevented some Calendar events from automatically showing as "busy" after accepting an invite.
iOS 8.2 Jailbreak nicht verfügbar
Wie bei jedem iOS-Update gibt es aktuell erst einmal keine Jailbreak Möglichkeit – es ist auch offen, ob ein Jailbreak für iOS 8.2 erscheinen wird oder ob die entsprechenden Programmierer direkt auf iOS 8.3 warten, welches auch in absehbarer Zeit erscheinen wird. Aktuell werden Nutzer, die auf einen Jailbreak angewiesen sind, davon abgeraten auf iOS 8.2 zu updaten.