By chance, with a Samsung GT-S5300 This is reason enough to put a SIM card in an adapter and see what can still be done with a cell phone from 2012 in 2021.
First to the most important technical data: the Samsung GT-S5300 is downright tiny in relation to today's smartphones a 2.8″ display shows 240×320 pixels, the whole device is 10.4cm x 5.75cm x 1.2cm, about a third of the size of a current iPhone or Android smartphone. The ARM11 CPU clocks at 823 MHz and the latest available Android version is 2.3.6 "Gingerbread". Theoretically, it is 3G-capable, but after the network providers in Germany said goodbye to this standard this year, only 2G and EDGE are possible.
The practical benefits are thus of course very limited in 2021 - and that's not enough of the disadvantages.
What works - what doesn't?
First the positive: the basic functions like telephony or SMS still work, there has not been that much technical development in the past nine years. Calculating a route with Google Maps also worked, the biggest hurdle being the very small letters on the display. By the way, Google Maps Navigation, which is taken for granted today, was marked as a beta in 2012 - fortunately, it is a product that Google has developed to the end and has not given up over the years.
The browser basically still works as well. Android 2.3.6 is no longer supported by most web servers or their SSL configuration. Google still offers the search in HTTP/1.1 (of course, the browser on the Samsung GT-S5300 does not know what to do with HTTP/2 either).
The camera can also still be used, but 2 megapixels are rather little nowadays (even though Apple does not pack more than 12 megapixels into the camera).
By the way, the login to Google fails, despite the correct password: after a while I got an SMS saying that someone with the password for my Google account was prevented from logging in - apparently Google assumed that this could not have been a valid login attempt. According to wikipedia Google simply no longer allows logins from devices with "Gingerbread", Android 3.0 is the minimum requirement since September 27, 2021.
Can a 9-year-old smartphone still be used in a meaningful way?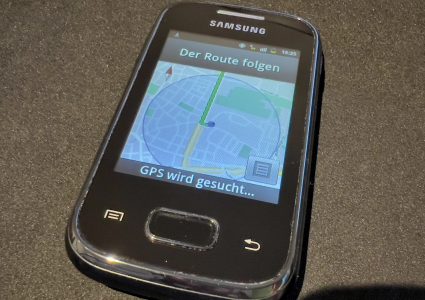 The answer is simple: you can make calls and send SMS, but you can hardly use any of the "smart" functions - apart from Google Maps and websites that do not require HTTPS. What remains fascinating: almost 10 years ago, it was already technically possible to build smartphones very small and handy, only this seems to have found no market. By the way, you can buy such a Samsung GT S5300 for about 30 Euros on eBay, if you want to experience the nostalgic feeling of a 9-year-old Android device yourself.
It would be exciting for me to see how an iPhone from that time would still perform: the iPhone 4S or the iPhone 5 were both current this year. However, you would then have to compare the respective release iOS version, since a comparison of iOS 10 and Android 2.3.6 would probably be rather unfair for Android.