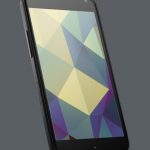 Besides the Nexus 10 Google has introduced a new Nexus smartphone, which is produced by LG. The essential key data: 4.7 inch display with 1,280×768 pixel resolution, Snapdragon-S4-Pro-Quadcore SoC with 1.5 GHz as well as 2 GByte RAM. Android 4.2 "Jelly Bean" runs as operating system, the LG Nexus 4 is available with either 8 or 16 GB memory - a slot for memory cards is missing. Also not to be changed: the battery, which can be charged by induction.
But the exciting thing is the price: Google charges 300 euros for the 8-gigabyte version and 350 euros for the 16 GB version. This makes it considerably cheaper than Apple's iPhone 5, which in its cheapest version costs 679 euros. So you get almost two LG Nexus 4 for the price of an iPhone 5. The only disadvantage: the device is quite big with 4.7 inches, so if you have small hands, you'll have a problem.
Overall, however, the smartphone market will be set in motion by the LG Nexus 4. Especially other Android smartphone manufacturers shouldn't be too enthusiastic, especially since the Nexus devices are preferably supplied with updates. It will be interesting to see if Google has a better grip on availability than Apple - what the iPhone 5 manufacturer does in terms of availability isn't exactly famous, if you assume that not even the Reservations at Apple Retail Stores seem to work.
The LG Nexus 4 can be ordered from November 13 in the Google Play Store.