After Apple has been selling the AppleTV for several years and Google also offers an extension for the TV with the Chromecast Stick, Amazon is now following suit: the Fire TV box should the Prime Instant Video Offer simply make it available.
Amazon FireTV in Germany from 25.09.
Amazon has announced that the FireTV streaming box will be available in Germany from September 25, 2014 and can be pre-ordered. Prices start at 49,- Euro for prime customers (which is good for using Amazon Instant Video anyway), non-prime customers have to pay 99,- Euro. In the USA FireTV also supports Netflix - whether this will also be the case in Germany after the foreseeable start of the service is still open.
Update 08.09.2014: Delivery not before 2015
Now, if you're a Amazon FireTV will not be delivered until after 01 January 2015 - Amazon has apparently made a clear estimate of the demand. The possibility for prime customers to FireTV for 49,- Euro ...will expire today at 11:59 p.m.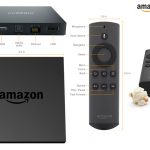 Optically, the Amazon Fire TV box is very similar to the AppleTV 2nd and 3rd generation, but is somewhat flatter. Unlike Apple, an external power supply is required.
Just like an AppleTV or Google's ChromeCast Amazon's FireTV designed to stream content from the Internet. A source on the local network (for example, a DLNA Server) is not supported, this would be a target of a possible root for the device.

Convincing hardware in Fire TV
The technical specifications of the FireTV convince: Qualcomm Krait 300 with four cores and 1.7 GHz, Adreno 320 GPU, 2 Gigabyte RAM and 8 Gigabyte integrated memory - according to Amazon, the performance should also be sufficient for games, a suitable controller can be purchased for an extra 40 US dollars.
The FireTV connects via dual-band WLAN according to 802.11a/b/g/n and Bluetooth 4.0 (remote control and controller work via radio), an Ethernet interface is also available. The output is via HDMI in 1080p with Dolby Digital Plus or transmitted 7.1 sound.
Voice control and streaming with ASAP
To avoid annoying buffering before the start of a movie Amazon uses a technique called "ASAP". Actually the abbreviation stands for "as soon as possible", for Fire TV it means: "Advanced Streaming and Prediction". Too good German: over time, the device should recognize which titles you want to watch next with the highest probability and buffer them - regardless of whether you actually start them. Not a good feature for customers with throttled DSL tariffs, for all others probably very practical. Whether the function will work for all services or only for Prime Instant Video is unfortunately not clear from the description.
When in Germany? When rooted?
It is still open when Amazon's Fire TV will come to Germany. As always with devices based on streaming services, new contracts will have to be signed. The only thing that would work directly would be Prime Instant Video and game support - it remains to be seen whether customers would be prepared to pay a good 140 euros for this. Those who do without the game controller would get a Prime Instant Video player for 99 euros.
It can be assumed that Amazon will also introduce the player in Germany, the question is only when and with which streaming partners. It would be logical to rely on Watchever, who are already represented on Apple TV and also have an Android app. Netflix will probably still not be available in Germany.
In any case, it remains exciting when it comes to streaming services - actually, Microsoft is still missing with a Windows 8.1-based streaming box to complete the ranks of the big online brands. Also the rights problem still stands in the way of a wider distribution.
With regard to a possible roots for the Fire TV from Amazon (after all, an adapted Android operating system is running on the device) there is already a suitable Thread. Currently not enough people have a suitable device to experiment with, but I assume that at least it will be tried.