With the Mini M8S II Smart TV box, you can add a Kodi Media Center to any television with an HDMI connection. The current generation is 4K capable.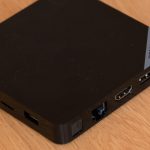 The format of the Mini M8S Smart TV Box roughly corresponds to the Amazon Fire TV: just over a centimeter high, flat and black. When it comes to connections, there are the usual ones: twice USB, once Ethernet with 100 Mbit/s and an HDMI 2.0b.
Features:
Amlogic S905X quad-core processor with 2 GHz
Penta-Core ARM Mali-450 graphics unit
64-bit Android 6.0
2GB DDR3 + 8GB eMMC Flash Memory with mircoSD-Card-Slot
2.4GHz WiFi (IEEE 802.11b / g / n)
H.265 HEVC Support
Optical SPDIF output

Despite the impressive list of features, the price that Gearbest.com calls up is very low: a good 45 euros will be charged including shipping for the Mini M8S II 4k Smart TV Box from a European Gearbest warehouse.
Mini M8S II in everyday life
The small black box does quite well in everyday life: there is enough power available for all apps, all applications run smoothly. There are still some disadvantages (which affect most Android TV boxes, though): Amazon Prime Video is not supported, even if you could load the corresponding app as APK - Amazon only allows devices that are on the white list. Somewhat critical: the pre-installed codi comes with some plugins that at least make it easier to play movies from possibly not quite legal sources.
Also problematic: not all apps that can be installed will work with the Mini-M8S-Box. Thus, for example, the 7TV app that ProSieben and/or Sat.1 is supposed to bring to the TV cannot be operated without further ado, as it is mainly designed for touch inputs.
First impression Mini M8S II
After using the Mini M8S II TV Box for some good weeks now and having a direct comparison with the Amazon Fire TV: if you don't use Amazon Prime Video, you can use the Mini M8S in the best of hands. Especially your own high-resolution videos like the iPhone 6S (4K sample video), the small box really manages without problems. Also easily possible: the use as tvheadend client via Kodi. The corresponding DVR plug-ins are already included.
What is also helpful: an external keyboard can be connected via Bluetooth or USB. Thus, the handling is much easier than with the included remote control, since Android is rather optimized for the handling with mouse and keyboard. As with all smart TV solutions, entering WLAN passwords without a keyboard is a bit tricky. Overall, the small Mini M8S Box definitely fun in everyday life - especially if you want to put a lot of your own material on your own 4K TV. In the next time I will continue to use the box and update this article with my impressions and experiences.