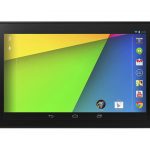 Google today unveiled the 2013 version of the popular Nexus 7. The data: 7 inch diagonal, Full HD IPS display (1,920×1,080 pixels), Snapdragon S4 Pro SoC, Ardeno 320 GPU, 2 GB RAM and 16 or 32 GB memory. The memory is not expandable as in the previous model. Overall, the Nexus 7 2013 is lighter and thinner. In addition, Android 4.3 is used, the latest version of Google's operating system. A version with LTE will follow.
Apart from the technical data, it will be interesting to see whether Google has better estimated the demand this time and has learned from the poor availability of the Nexus 7 - it should be a good product, also in terms of processing there is hope that ASUS will do better this time and e.g. the display is fixed. Prices for Germany are not yet known, in the USA the Nexus 7 (2013) costs 229,- $USD for the 16GB version and 270,- $USD for the 32GB version. The predecessor, the Nexus 7 (2012), is available at Amazon from 209 to get.
Update 07-30-2013: After some confusion about whether the Nexus 7 (2013) will support LTE in Germany as well, the all-clear now seems to be given. On the US product side, the following LTE frequencies are now being mentioned again for Europe: 800, 850, 1700, 1800, 1900, 2100 and 2600 MHz (bands: 1/2/3/4/5/7/20).