Those who still use a first generation Motorola Moto G from 2013 can now upgrade to Android 6.0.1 with CyanogenMod 13.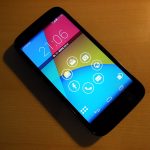 If you are already using CyanogenMod 12.x, the update to the new version will be installed directly via the OTA update function. Disadvantage: if the Google Play Services are installed, they have to be updated to the new Android 6.0.x compatible version as well. This can be done simply by using the offer of Opengapps.orgbut you must be careful to download only the "micro" or "nano" version - for the larger packages it may be necessary to increase the size of the system partition, which will result in complete data loss.
But if the new version is installed, it really runs smoothly even on the somewhat older device.

Android 6.0.x is not the current Android version. It will be introduced with CyanogenMod 14.x, and it is not yet known if this version will be available for the Moto G will appear in the first generation. Anyway, it's good that the Moto G continue - at least via the detour via CyanogenMod - is supplied with current Android versions.
In return, Motorola - or meanwhile Lenovo - doesn't provide updates to current Android versions for the formerly cheap Moto G, which is especially noticeable for its good price-performance ratio. Thanks to the support of the CyanogenMod team, the not so dewy Motorola Moto G of the first generation gets a much longer life.