The current Macbook Pro Generation is only equipped with Thunderbolt 3 connectors in USB-C format. The HyperDrive adapter provides a remedy.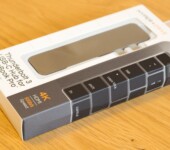 Developed from a Kickstart campaign the HyperDrive USB-C dongle offers easy expansion with all necessary interfaces without reducing the number of USB-C ports:
The HyperDrive is compatible with the Macbook Pro 13″, the Macbook Pro 13″ (touchbar) as well as the Macbook Pro 15″ - all year 2016. The device will not work on older models or on Macbook 12 with only one USB-C port.
The whole thing is packed in a single, 34 gram adapter - especially if you use your Macbook as a stationary computer, you'll get a multitude of connections that would otherwise have to be provided with individual dongles.


No configuration is necessary: after unpacking, the HyperDrive can be used directly. The connection to a monitor (Dell U2515H) via HDMI works right away, even the monitor's full resolution (2.560 x 1.440) is directly recognized. An iPhone connected in parallel to one of the USB ports is also recognized by iTunes without further ado.
All in all, it seems HyperDrive to be a trouble-free dongle, which is perfectly adapted to the current Macbooks. There were matching colours for Spacegrey and for silver - although the grey model differs slightly from the colour of the Macbook, which is not disturbing. Somewhat strange: the Hyperdrive is not exactly the same height as the Macbook, I'm thinking about adding a felt to relieve the USB-C ports. Normally the Hyperdrive floats about 1.5 millimeters in the air and is of course pressed down quickly by the cables. Here I would have wished that the dongle is more precise.
With the HyperDrive, the utility value of my Macbook Pro 2016 has definitely increased - with HDMI, USB and a fast card reader, everything is available that Apple could have actually built directly into the device.
If you missed the Kickstarter campaign, you can still Order a Hyperdrive from Indigogo.