Those who use MacOS will usually also use the timemachine backup. However, if the backup is to be encrypted, there are a few tricks that can be used to avoid a slow timemachine backup.
An encrypted backup is recommended because modern Macs automatically encrypt the drives using the built-in T2 chip. If the backup were to remain unencrypted, this would pose a security risk if the backup hard disk were to be lost.
The problem: if you simply check "encrypted" when creating the time machine backup, the backup is created first and then the data is encrypted. Even with a Macbook Pro 2018 (4 cores/ 8 threads, 16 GB RAM) and backup to an SSD connected via USB-C, this process takes forever - although my backup is still almost tiny with a good 85 GB.
The trick to get a fast timemachine backup with encryption: encrypt the hard disk before the first backup using the disk utility: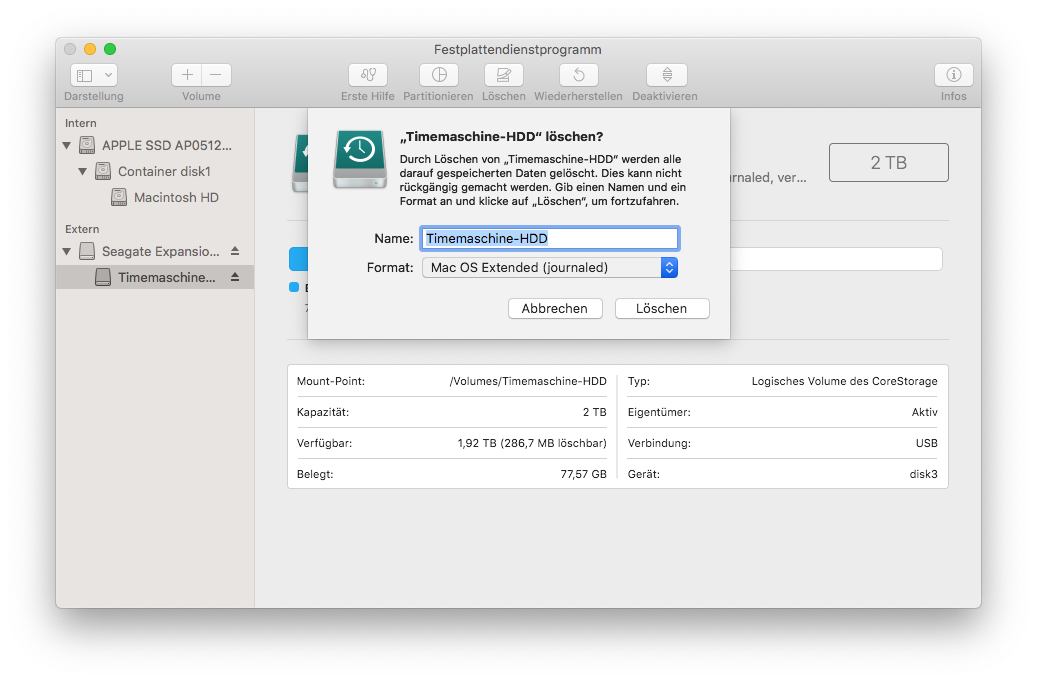 When choosing a password, make sure that you use something that you can remember easily. Without this password you can't restore the backup, which would be a bit pointless. In the next step you can select the freshly formatted volume as a timemachine backup target, whereby the checkbox for encryption should already be checked.
The time machine program then does not start its own encryption, but relies on the already existing hard disk encryption. The backup itself is therefore not noticeably slower than without encryption, the slow time machine backup with encryption is a thing of the past.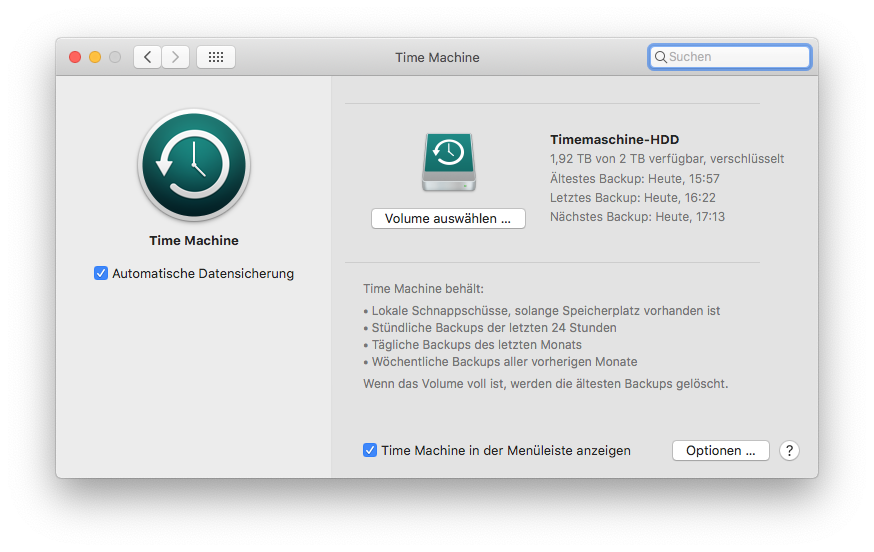 Why Apple doesn't solve it the same way and first encrypt the hard disk and then make the backup on the encrypted disk is still not comprehensible. The backup password can also be stored in the keychain without any problems: whoever has access to the MacOS keychain would already have access to the original data, and should the backup get lost, it is also protected if the password is stored in the keychain. This way even the encrypted time-machine backup remains as convenient as without encryption.
Offer
Seagate Ultra Touch HDD, external hard drive 1 TB, 2.5 inch, USB-C & USB 3.0, white, incl. 1 year Mylio Create, 4 months Adobe Creative Cloud photo subscription, 2 years Rescue Service, model no.: STHH1000402
SECURITY FIRST: Manage photos, videos, movies and other data with convenient, secure hardware encryption with password protection.
STYLISH AND LARGE SPACE: Elegant tone-on-tone textile design, compatible with laptops and PCs with USB-C and USB 3.0.
PLUG & PLAY: The perfect external hard drive for Windows or Mac. Back up files with one click or set automatic daily, weekly or monthly backups (reformatting may be required for use with Time Machine).
MYLIO AND ADOBE: Edit, manage, and share photos with a free 1-year subscription to Mylio Create and 4-month membership to Adobe Creative Cloud Photo Subscription (Redemption must be made within one year of registration. Not available in China).
RELIABLE: Enjoy long-term peace of mind with the included 2-year limited warranty and Rescue Data Recovery Services for 2 years.
Last updated on 2021-03-06 at 10:50 / Affiliate Links / Images from the Amazon Product Advertising API