After iOS 10.2 Apple has now updated macOS "Sierra" to version 10.12.2. This should also fix bugs with the Macbook Pro (Late 2016).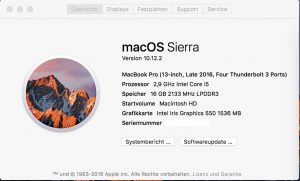 For some users it is supposed to be possible with the current Macbook Pro will result in graphic errors. In addition, errors with the timemachine backup are said to have been fixed - whether this includes the smaller problems with the backup to a FreeNAS Installation which I fixed with macOS "Sierra" 10.12.1 I have. In this case, the backup may be aborted or the backup volume may not be found.
Besides bug fixes, there are also security updates that Apple also lists. Whether the update really fixes all problems with the new Macbook will be seen in the next days.

Changelog:
Improves setup and reliability of Auto Unlock.
Allows addition of a Chinese Trackpad Handwriting button to the Touch Bar Control Strip.
Adds support for taking screenshots of the Touch Bar using the Grab app or Command-Shift-6 shortcut.
Fixes an issue that caused the Touch Bar emoji picker to appear on the display.
Resolves graphics issues on MacBook Pro (Late 2016) computers.
Fixes an issue where System Integrity Protection was disabled on some MacBook Pro (Late 2016) computers
Improves setup and opt-out experience for iCloud Desktop and Documents.
Fixes an issue with the delivery of Optimized Storage alerts.
Improves audio quality when using Siri and FaceTime with Bluetooth headphones.
Improves the stability of photos when creating and ordering books.
Fixes an issue where incoming mail messages did not appear when using a Microsoft Exchange account.
Fixes an issue that prevented installation of Safari Extensions downloaded outside the Safari Extensions Gallery.
Adds support for new installations of Windows 8 and Windows 7 using Boot Camp on supported Macs.
Fixes an issue that prevented some screen resolutions from being available on third-party displays.
Adds support for more digital camera RAW formats.
Enterprise content:
Improves performance when searching the Global Address List for a Microsoft Exchange account in Contacts.
Improves reliability of Calendar when using delegate calendars and snoozing Microsoft Exchange events.
Improves support for smart card authentication at the login window.
Allows 802.1X clients configured to use System Mode to automatically reconnect to the network when users log out.
Resolves an issue with pushing VPN payloads to MDM clients via a configuration profile.
Improves management of background software updates and Safari Internet plug-ins via configuration profiles.
Allows administrators to disable a security feature that requires confirmation before connecting to certain network volumes.
Fixes a Calendar issue that prevented delegated calendars from appearing in the Calendar shortcut menu when control-clicking an event.
Fixes an issue that prevented the Partition Disk function of System Image Utility from working when deploying a system image over the network.
Fixes an issue in Xsan 5 where a rolling failover might prevent Xsan clients from accessing files on the volume.
Prevents a potential kernel panic when searching a DFS namespace in Finder.
Changelog at Apple: About the macOS Sierra 10.12.2 Update