After several years of development, version 10 of FreeNAS has now been released. Its name is "Corral".

iXsystems has worked with FreeNAS 10 "Corral" released a new version of the popular operating system for do-it-yourself NAS systems. The user interface has been completely revised and now looks much more modern, the base has also been modernized.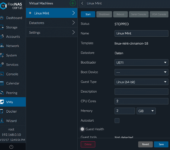 Instead of relying on plugin extensions as in the past, support for virtual machines (which also allows Windows to run as a guest) and docker containers has been added, thus significantly increasing the range of software extensions. The system requirements have also increased somewhat, although the leap is not as big as with FreeNAS 9.10.x. For example, if you want to use a HP Microserver Gen8 should be at least with the maximum 16 GB RAM and a faster CPU (the CPU exchange is very simple) work.

The installation requires a USB stick of at least 8 gigabytes (an oversized stick makes no sense because it cannot be used for data) and a 64-bit system (which even the several years old HP Microserver N36L fulfilled). In addition, 8 gigabytes of RAM are required.
The download of the ISO or the update can be done directly from FreeNAS website possible. I have already updated my system, which worked so far - nevertheless you should have a backup of the settings. The data itself is normally not affected by the upgrade.