If you want to equip a Macbook Pro from model year 2016 with more ports, you usually need a docking station. With the Thunderbolt 3 Pro Dock, Elgato offers a variant that leaves hardly any wishes unfulfilled.
So far I have a "Hyperdrive" is used when the Macbook is connected to the monitor at home. The drawback is that it has only one HDMI port, so you can't use both monitors in my multi-monitor setup (two Dell 2515H). With the switch to a current Macbook Pro (2018), I decided to also purchase a new docking station.
The potentially cheap alternative in the form of a HP ZBook Thunderbolt 3 docking station with 150 W unfortunately doesn't connect correctly to the Macbook (on Dell XPS 9360R my wife's it works perfectly well). Also a hurdle: Apple still doesn't support daisy chaining for display port, which would have made the cabling of the two monitors much easier.
After some research I came across the Elgato Thunderbolt 3 Pro Dock, which unlike its little brother also has an SD and micro SD card reader.
Elgato Thunderbolt 3 Pro Dock: Specifications
| | |
| --- | --- |
| Compatibility | Thunderbolt 3 (USB-C, 40Gb/s) |
| Connections | 2x Thunderbolt 3.0 (DisplayPort over Thunderbolt), 2x USB-C 3.1 (10Gb/s, BC 1.2, 1.5A, UASP), 1x USB-C charging port, 2x USB-A 3.0 (5Gb/s, BC 1.2, 1.5A, UASP), 1x Gb LAN, 1x DisplayPort 1.2 (max. 4096×2160 @60Hz), 2x jack |
| Power supply | external (hollow plug, 20V/8.5A), 70cm cable length |
| Dimensions | 220x80x29mm |
| Weight | 400g |
| Equipment | USB-C Power Delivery (85W), Card reader (microSD, UHS-II), Card reader (SD, UHS-II) |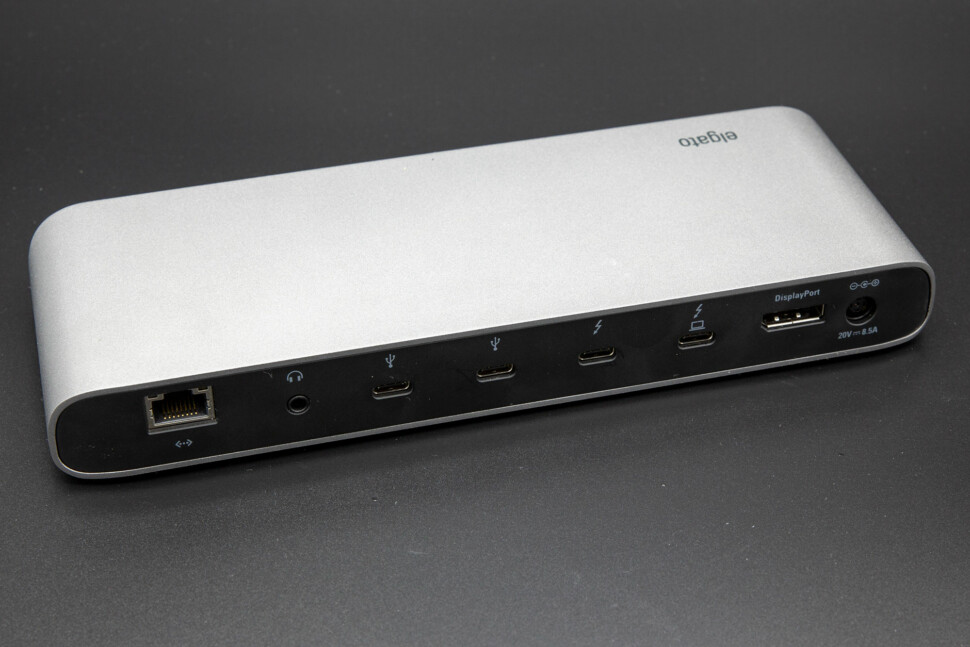 everyday operations
A single cable runs from the dock to the Macbook, making it really easy to connect and disconnect. On the Elgato website, there is another tool that helps you safely remove hard drives and memory cards connected to the dock.
Potentially, the desk can be very tidy, except for the one Thunderbolt-3 cable, everything else disappears behind the dock or behind the monitors (provided that you use Apple's Magic Keyboard & Magic Trackpad, which are both connected via Bluetooth). On my desk, the order doesn't work out that well, as I still use a normal PC for games (the Macbook is definitely undersized here).
Elgato masters the most important discipline, namely the smooth recognition of the monitors and the other devices at the dock with flying colors: during the initial setup, there was some effort to set up the arrangement of the monitors correctly (as long as the Macbook is opened, you have three displays), but after that, everything has worked smoothly so far.
The Dock provides enough power to charge the Macbook. You can also charge your smartphone using the dock's USB C ports (even when your Macbook is not plugged in).
If you have problems with the Macbook Pro not loading: both the port marked accordingly and the port next to it work. For me it helped to connect the Macbook to another USB-C port on the docking station.
Elgato Thunderbolt 3 Pro Dock: Conclusion
With a price of 350,-€ the Elgato Thunderbolt 3 Pro Dock is certainly one of the most expensive Thunderbolt 3 docking stations. However, the price is relativized by the really smooth operation (even the Dell XPS notebook with Thunderbolt 3 and Windows 10 immediately recognizes all devices and monitors). The look is inconspicuous, and as long as you don't have a white desk, the dock won't attract attention at all after a while.
Observations in summer
Im aktuellen Hochsommer bei Temperaturen > 30°C draußen (und auch etwas erhöhter Temperatur im Arbeitszimmer von gut 26°C) wird das Thunderbolt 3 Pro Dock doch recht heiß (fast ein wenig unangenehm anzufassen). Trotzdem funktioniert alles.
Last updated on 2 June 2023 at 13:16 . Please note that prices displayed here may have changed in the meantime. All data without guarantee.