Since the Telekom at my location provides Supervectoring 35b as the fastest offer, I have booked the corresponding MagentaHome XL. 
Deployment from a regular vectoring connection (100/40 MBit/s) was completely problem-free: on the announced changeover day, the Internet was gone for about 15 minutes, after which the Fritz!Box 7590 resynchronized and has since achieved stable 265.5 Mbit/s download and 42.5 Mbit/s upload without reconnects. The net result is 249.5 Mbit/s down and 41.5 Mbit/s up. 
The price of € 54.95 per month is not exactly cheap, but you get the bandwidth reliably, speed tests at different times of day document very decent data rates even via WLAN: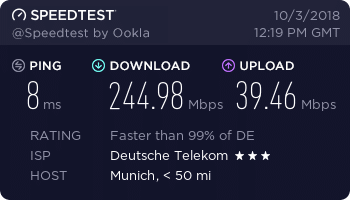 Unfortunately the choice of routers with profile 35b, which is a requirement for super vectoring, is quite limited. Miser. de lists 16 models with appropriate support.