There are many 13.3" notebooks, but in the weight class of ultra-light models under one kilogram, the selection becomes smaller: if there are currently just over 1,900 variants to choose from in the sizes up to 14.1", the variety drops to 70 models if you set the filter to a weight of up to 1 KG.
As the name suggests, Lenovo relies on the Yoga 7i Slim Carbon on a carbon casing (although the device is white). This makes it very torsion-resistant and yet extremely light. The other equipment corresponds to a current Intel ultrabook with "EVO" certification, AMD is not available.
That is a bit of a shame, although the single-core performance of the Intel i7 1165G7 is good, it only has 4 cores with 8 threads - even mobile, that can no longer be called high-end, probably Lenovo was deterred by the fact that current interfaces like USB 4 or Thunderbolt 4 are scarce in the AMD environment for these ultra-light devices. If you only want to install USB-C ports in favor of a slim chassis, the Intel Tiger Lake platform is more suitable.
The low weight is all the more impressive for that: compared with a Dell XPS 13 9360R or a Macbook Pro 13″, the Yoga 7i Slim is significantly lighter - handy when the weight of your carry-on luggage is checked or you want to transport it in a backpack.
A new (actually resurgent) trend is the display: with an aspect ratio of 16:10 and a resolution of 2,560 x 1,600 pixels is then a clear step towards more productivity. With 300 cd/m², the brightness level of the MacBook Pro is not yet reached, but thanks to the matte coating, the display is still easy to read in relatively bright surroundings.
Yoga 7i Slim Carbon: Specifications
The technical data correspond to the usual current standard, a low weight means here no renouncement:
CPU: Intel®Core™ i7-1165G7 (28 watts, max. 4.7 GHz Boost)
RAM: 16 GB RAM LPDDR4X 4.267
SSD: 512 GB Samsung PM981 NVMe
GPU: Intel Iris Xe
Ports: Thunderbolt™ 4 (USB 4), only the 2 ports on the left side. 1x USB 4 with DisplayPort 1.4 on the right side, 1x 3.5mm audio. Intel AX201 Wifi with Bluetooth 5
Battery: 50 Wh, up to 14 hours runtime
Other: Keyboard with multi-level illumination, camera with Windows Hello support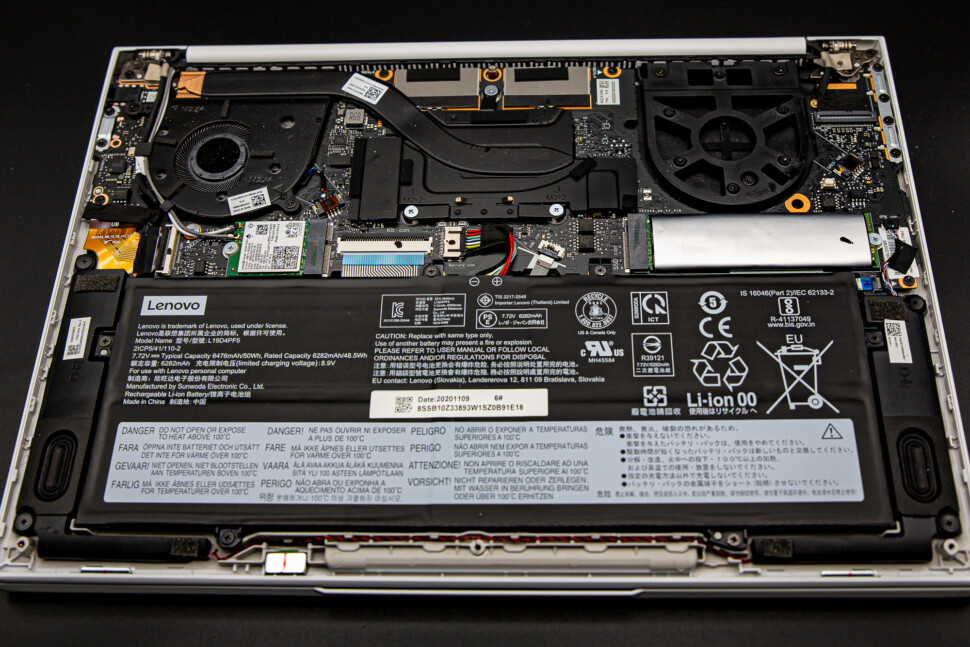 Yoga 7i Slim Carbon: Everyday performance
It has to be clear that an ultra-portable notebook does not reach the performance of a regular workstation: a Ryzen 9 5950X delivers many times the performance. Older, comparable devices like the Dell XPS 13 9360R are clearly beaten despite a comparable design (4 core CPU with 8 threads, 16 GB RAM). The noise is also much lower; you can hear a slight whisper in normal home office use when the Yoga 7i Slim is attached to the docking station.
Apple remains unmatched, though: the new M1 ARM chip in particular delivers very strongly, and even a 2018 Macbook Pro 13″ can still keep up - the cooling concept with two fans is simply much stronger, and the aluminum unibody also dissipates heat better than the carbon case.
For editing pictures or writing blog posts, the Yoga 7i Slim is definitely fast enough and probably will be for years to come.
Yoga 7i Slim Carbon: Touchpad, camera & co.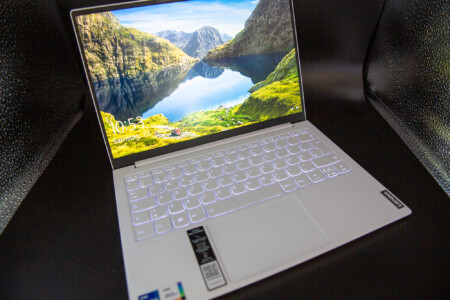 The touchpad does its job unexcitingly, but does not come close to the touchpads of the Macbooks: Apple's "Taptic Engine" remains unbeaten. The camera delivers a solid quality of 720p, but it is far away from the cameras that are even known from inexpensive cell phones - a pity, because a better quality would be desirable for video conferencing. The sound is okay, "optimized with Dolby Atmos®" is just a marketing claim - just like "Dolby Vision®" for the screen.
The keyboard is illuminated, but the contrast of the bright keys and the illumination is not optimal: when it is bright, the illumination worsens the legibility, but when it is really dark, it brings an advantage.
Lenovo Yoga 7i Slim Carbon: Conclusion
Battery runtime for a whole workday, weight under one kilogram, smaller than a Macbook Pro 13″ - Lenovo has launched an interesting device with the Yoga 7i Slim Carbon. Only a few points could be better, e.g. Thunderbolt 4 on all three USB-C ports.
Delivered with Windows 10 Home, the ultrabook perfectly fulfills the requirements in my case - the price of a good €1,200 for such a device is within the range of what is expected, especially since the prices are currently rather high, thanks to Corona. Basically, everyone has to check their own requirements and see if the device is the right one.