After I already used the Miniot case on the iPhone 6s (in mahogany) I decided to use the oak version on the iPhone 7.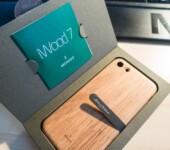 The Miniot iWood 7 "Oak" case is manufactured with great precision in Holland. No matter which wood you choose, it is always sourced from certified sources - so you don't have to worry about the rainforest suffering. Compared to the Case for the iPhone 6 / 6s Miniot has improved the stability.
Nevertheless, there is a noticeable "play" when you press on the sides of the cover - moreover, the transition between the two halves is noticeable despite all the precision in manufacturing. This can probably never be completely avoided by using wood as a material.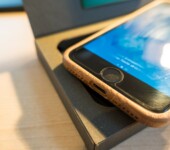 The Lightning and camera and flash cutouts are also precision engineered for full compatibility with Apple-certified cables. The holes for the speakers are also neatly made.
The Miniot sleeves can only be ordered directly in the Netherlands and are sent by FedEx - so you should be at home or have the sleeve sent home. Disadvantage of these really nice cases (no matter in which wood version): the price. Nothing can be done for less than 100,- €, special versions can also cost around 150,- €. In return you get a really individual and unique case for your iPhone 7.