Apple has released iOS 10.2 for all devices that support iOS 10 with a number of bug fixes.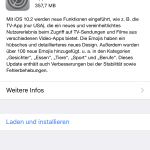 In Cupertino, importance is attached to the availability of new emoticons and TV apps (only in the USA). In addition, there are a lot of bug fixes in different areas. In addition, as always Security updatesso that users who set a jailbreak should not install the update immediately. The Telekom has also updated the network operator settings to version 27.1, changes here are not yet known.
TV
Use "Up Next" to resume playback of your current movies and TV shows where you left off.
Get recommendations for new movies and TV shows with Watch Now.
Discover new apps and the very latest iTunes releases on the Store.
Access your iTunes purchases and rentals from your library.
Emojis
Pretty emojis with new, more detailed design.
Over 100 new emojis, including in the categories "Faces", "Food", "Animals", "Sports" and "Professions".
Photos
Improves stabilization and provides a faster frame rate for live photos.
Improves accuracy when grouping similar photos of the same person in the People album.
Fixed an issue where "keepsakes" were created from photos of screen shots, whiteboards, or invoices.
Fixed an issue where the iPhone 7 Plus camera would remain in zoom mode after switching from "Recordings".
Additional support for digital cameras with RAW format.
News
New background effects "Heart" and "Rain of Sparks" in "News".
A problem with the keyboard display in "Messages" was fixed.
Music
To access Shuffle, Repeat, and Next Track, simply swipe up in the Current Track screen.
Select how playlists, albums, and tracks are sorted in the library.
News
Saved stories now appear in the new "Saved" section.
The best paid stories from your subscribed channels now appear in a separate section in "For You".
Simply swipe to the left while reading or tap "Next Story" to view the next article.
Mail
An issue where the "Move" menu continued to appear after an e-mail message was dropped was resolved.
A problem in Mail with activating "copy and paste" by long pressing has been fixed.
An issue where an incorrect e-mail message was selected after deleting a mail conversation was fixed.
Operating aids
Support for BraillePen14 in VoiceOver
A problem with suddenly changing the Braille table in VoiceOver was fixed.
Fixed a problem with the availability of the improved Siri voices in VoiceOver.
A problem with sorting list items in VoiceOver was fixed.
A problem with deleting voicemails with the switch control was fixed.
Other improvements and bug fixes
Further support for messages from HomeKit devices such as sensors for window protection, presence, motion, windows/doors, smoke, carbon monoxide and water leaks
Additional support for messages from HomeKit devices when software updates are available for them.
Improved Bluetooth performance and connectivity with third-party accessories.
Fixed a problem with the sharpness of FaceTime video calls.
Fixed a problem with the image format and orientation for FaceTime video calls.
A problem with the playback of Visual Voicemail messages was fixed.
A problem in Safari Reader was fixed where articles opened as blank pages.
Corrected a problem where Safari would suddenly quit after "Mark as Read" an item in the Reading List.