Miniot has again launched a wooden case for the iPhone 6s. Compared to the "old" model for the iPhone 5/5s, the new wooden case is even thinner. It is roughly comparable to the leather case from Apple.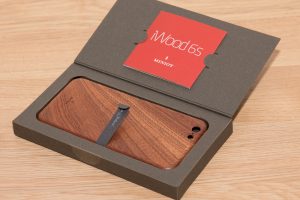 Miniot manufactures the real wood cases in the Netherlands as usual. The wood comes from certified cultivation, so that even for the tropical wood cases (as in my case for the Mahogany case for the iPhone 5s) no rainforest was cut down.
Due to an adapted structure on the inside, the current generation of the iWood Case significantly lighter and a more stable. The case seems almost a little fragile, especially when "putting on" it is a little bit afraid to break the case directly. It is fascinating how thin the wood is worked - the original leather case from Apple is not flatter.

Unlike the Apple cases, the protection is complete: even the lower part of the connections is covered by the iWood 6s off. Miniot states that most Lightning and third-party headphone jacks will fit - the BOSE QuietComfort 25 ...it's not gonna be a problem.
Of course, it remains open how stable the case is over a longer period of time - the iWood 5 did get some cracks after a few years, but they could be repaired easily with a little super glue. On the iWood 6s - at least on my specimen - the transition between both parts of the case is not 100 % perfect: the lower part is slightly thicker than the upper one.
In any case, a case from Miniot offers a very stylish alternative to other iPhone cases. Of course, this has its price: 79,- Euro plus shipping from the Netherlands are due if you want to call this exclusive wooden case your own.