The 2021 generation of the MacBook Pro 14″ and 16″ can reach a maximum brightness of 1,600 nits selectively and 1,000 nits over the entire surface - at least for HDR content. In regular use, the brightness is limited to 500 nits.
"Vivid"is a small app that enables HDR brightness permanently in other applications as well. The developers only use the APIs provided by Apple, which should not damage the display - of course, there is no guarantee here, but the load is comparable to several hours of editing HDR material. The app itself requires if active 40 megabytes of RAM and around 2% of CPU - the latter of course depends a bit on the CPU. The temperature of the display increases by 5 - 10% (and of course also the power consumption), so you should only use the additional brightness when it really makes sense.
"Vivid" is under continuous development, the current version is 1.5. Over time, new, partly experimental features have been added, e.g. selective brightening of the active window and bug fixes.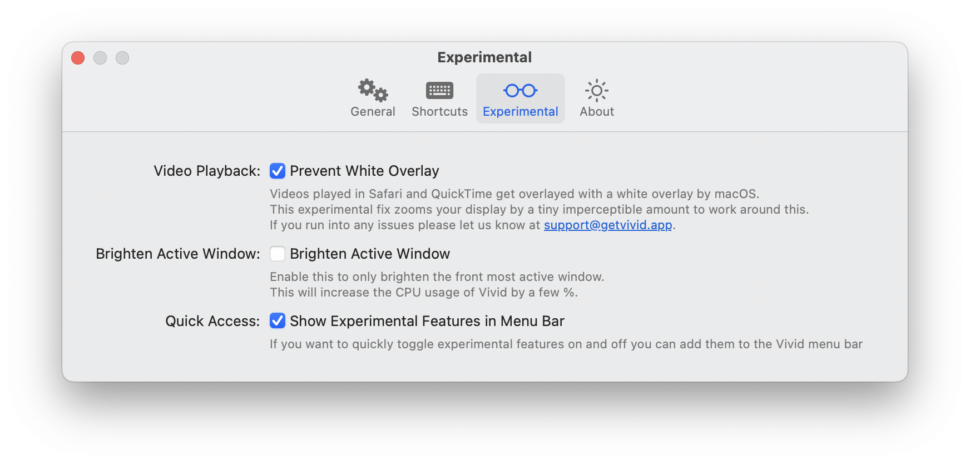 Completely without disadvantages is the use of Vivid not even apart from the increased power consumption: so for a screenshot, for example, the "bright" area is taken and not the information underneath. I will use the app especially if the normal brightness of the display should ever be insufficient - if there should ever be sunshine on the display in the summer 🙂
Download Vivid App
At getvivid.app you can download the app, a current MacBook Pro 14 or 16 inch with M1 chip or a Pro Display XDR is required. Try it out for free (in split-screen mode), the license costs 15,- EURO.