Apple today released iOS 10.1 for all supported devices - the portrait mode for iPhone 7 Plus is still marked as beta.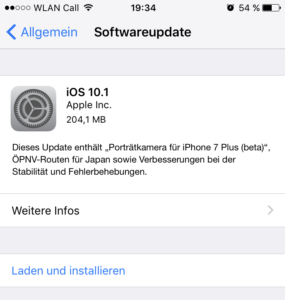 Apart from the portrait mode, which is only available for iPhone 7 Plus will be available, there are a number of error corrections. For example, the bug that prevented some iPhone 7 users from reliably focusing on the camera at every startup has been fixed. My device was also affected by this problem, since the update to iOS 10.1 the error has not been reproducible so far.
In addition to camera support, Apple Maps now also has improved support for public transport navigation - which can be very handy in large cities. In addition to the official list of updates, Apple will also have done a lot in the area of security again - but jailbreaks are out of fashion with the latest iOS versions anyway.

Camera and photos
The new Portrait Camera for iPhone 7 Plus beta feature that creates a depth effect that makes the subject in focus appear sharp against a blurred background
Personal names in the Photos app are backed up in iCloud backups
Improved display of photos in a wide color spectrum in the raster display of the Photos app
Fixed a problem that caused a blurry or flashing screen when opening the Camera app for some users
Fix an issue that occasionally caused "Photos" to exit suddenly when you activate your iCloud library
Maps
Public transport support for all major rail, metro, ferry and national bus lines as well as local bus systems in Tokyo, Osaka and Nagoya
Sign-based public transport navigation, including plans of underground facilities and pedestrian tunnels in major public transport stations
Public transport tariff comparisons when displaying alternative routes
News
New option to repeat bubble and background effects
Playback of message effects when the "Reduce motion" setting is activated
Fix a problem that occasionally caused contact names to appear incorrectly in "Messages
Fix a problem where a white screen was displayed when opening "Messages".
Fix a problem where the Report Ads option was not displayed for unknown senders
Fix a problem that caused sound to be missing from videos that were recorded and sent using the Messaging app
Apple Watch
Information on distance and average pace for outdoor wheelchair training at running and walking speed in the training overview in the activity app
Troubleshoot problems synchronizing music playlists with Apple Watch
Resolve a problem with the display of invitations and dates in the activity release
Fix an issue where activity sharing via mobile phone was updated even though the feature was manually disabled
Fix a problem that caused third-party apps to crash while entering text
Other improvements and bug fixes
Improved Bluetooth connectivity with third-party accessories
Improved AirPlay synchronization when devices go to sleep
Fix a problem playing purchased iTunes content when the Show iTunes purchases setting is turned off
Fixed an issue that prevented Live Preview when using certain selfie apps and face filters with the FaceTime HD camera on iPhone 7 and iPhone 7 Plus
Fixed a problem in "Health" when using the Chinese handwriting keyboard, where single strokes were converted into different characters
Improved performance in Safari when sharing websites with News
Troubleshoot a problem in Safari with tabbed web previews
Fix a problem where some emails were reformatted to very small text
Fix a problem with the formatting of some HTML e-mail messages
Fix a problem where the search box in Mail disappeared
Fix an issue that prevented widgets from updating in the Today view at startup
Fix a problem with loading data in the weather widget
Fix a problem on iPhone 7 where the Home button click settings did not appear in search results
Fix an issue that prevented spam filter extensions from blocking advertising calls
Fix a problem that prevented alarms from activating properly
Fixed a problem where audio playback via Bluetooth occasionally interfered with Taptic Engine feedback
Fix a problem that prevented some users from restoring from iCloud backup
Unusual for Apple is that the feature of sharing portraits via software is still declared as beta - but at least there are new features and bug fixes for all other devices. The update is about 200 MB (iPhone 7) in size and is available via OTA update since tonight.