Anyone who wants to work on the move rather than just in a home office needs reliable Internet access. Although many Airbnbs are equipped with Wi-Fi, it is usually not possible to reliably determine in advance whether this meets the requirements. It is even more difficult if you are traveling with a van or even a tent.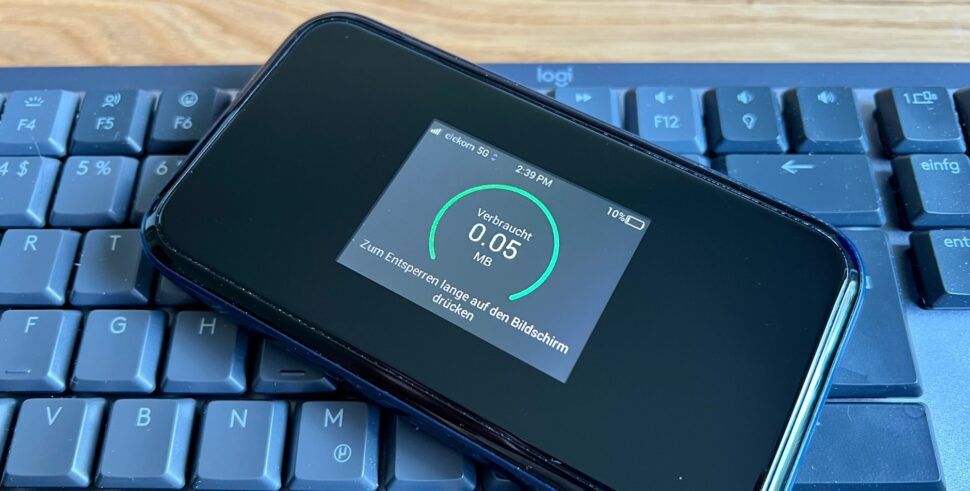 One solution, apart from tethering via your own smartphone (which usually doesn't work 100% stable) is a mobile hotspot with the right contract. During my research I came across the ZTE MU5001 Hotspot which meets all the requirements for a mobile Internet solution:
Qualcomm X55 modem with support for all common frequency bands for UTMS, LTE & 5G
WiFi 6 (2.4 & 5 GHz) for up to 30 devices
own battery so as not to load any other device
external antenna connector (TS-9) to improve reception
no SIM lock or other binding to a provider
The device is priced at around €300 and can be purchased from e.g. Telekom or other stores. Not cheap for a device that is basically a specialized cell phone (which also fits the dimensions of 7.3 cm wide, 1.8 cm thick and 13.3 cm long with a weight of 220 g), but the bandwidth is passed on completely and up to 30 devices can also communicate with each other (just like a classic WLAN router).
Besides the already mentioned battery, which is supposed to provide a runtime of 350 hours with 4,500 mAh (which only works in standby in practice, but you can manage a workday), there are also a USB-C port (via which the router is also recognized as a "modem") and a LAN port, which can easily expand an existing network.
All in all, the ZTE MU5001 a solid Mobile routerwhich has everything you need to implement a WLAN on the road. The price of the device is much lower than the 5G support (which is also useful for this purpose). Competitor. The only thing that remains is the search for a suitable mobile phone rate, which is where things get difficult.
ZTE MU5001 & Freenet FUNK: perfect for "Mobile Work"?)']);" title="Buy now from Amazon">
Amazon
Last updated on 7 June 2023 at 13:23 . Please note that prices displayed here may have changed in the meantime. All data without guarantee.
Mobile communications without volume restriction
If you want to work on the move without regrets (and worries), you need a bit more data volume than the average cell phone user: in my specific case, around 75 GB of volume per month is required if I use the cell phone network for everything I normally do via my normal VDSL connection from Deutsche Telekom. This doesn't even include evening movie sessions on Netflix & Co. The whole thing also has to be fast enough not to attract unpleasant attention in team calls.
The market for rates without volume limits is rather manageable: Telekom offers a corresponding rate with the MagentaMobil XL for 84.95€/month, Vodafone the GigaMobil XL for 79,99€/month and O2 the Free Unlimited Max for 59.99€/month. All these rates offer 5G and 500 Mbit/s maximum speed.
As you can see from the headline, I didn't opt for one of these quite expensive rates. After I enjoyed the MagentaEins Unlimited with 100 MBit/s in Telekom's 5G network (which didn't last long either, but at least unlike the MagentaEins Plus has not been completely discontinued and can still be used for existing customers) - so I was basically looking for a rate on a different network to improve coverage.
At this point came Freenet FUNK a "modern" rate in the Telefonica network, which is limited to LTE (at least for now, the rumor mill is still simmering a bit about whether & when freenet will also be allowed to use the 5G network), but still offers a maximum of 225 Mbit/s, which is faster than my Telekom rate in the 5G network (since Telekom is a bit stingy with the bandwidth here).
The GTC do not have an explicit exclusion but only talk about the fact that Freenet FUNK can be used on "all mobile devices" and that hotspots can also be set up - there is the ZTE MU5001 As a mobile hotspot with a battery, it is actually the perfect device.
The data volume is also unlimited in Germany (for 99 cents per day) or limited to 1 GB (then for 69 cents per day). When roaming (except Switzerland), only 1 GB is available per day, after which it is throttled to an unusable 32 kBit/s.
Here is also the peculiarity of FUNK mentioned: the contract is billed each day and the only payment method that is available is PayPal. Both can be a no-go for some, at least it increases the bookings that take place on the own account significantly (unless you load Paypal credit, then it would first have to be paid from it - but I have not tried that myself).
With FUNK's Unlimited rate, the name says it all: there is no limit on data volume, and even volumes of a good 100 GB per month do not result in termination. Perfect, therefore, either as a backup Internet connection (if the Telekom landline is not working) or as a stand-alone Internet connection (on the road, in a vacation home, etc.). For a maximum of 31,-€/month and 225 Mbit/s under optimal conditions (which are also achieved here in Munich), it is even cheap for a normal DSL connection, if you exclude the purchase of the router.
What are your experiences & solutions for mobile internet? The only thing I miss on the ZTE MU5001 is the ability to use a second SIM card. With multi-SIM support, the coverage would be even better without changing the SIM card. Also eSIM for use abroad with the corresponding services like. Airalo would be very practical, but it will probably take a while before something like this is possible. Until then, we can only hope that offers like Freenet FUNK do not disappear from the market.