Unlike the open source solution using OpenMPTCPRouterI described in the last post, Speedify is a commercial solution based on a VPN client. The principle is the same: two lines are bundled, the data is routed through an endpoint and the speed is thus improved.
Again, the setup is the same: a VDSL connection with 250 MBit/s as well as a 5G mobile connection, also limited to 250 MBit/s. Theoretically, a gross data rate of 500 MBit/s downstream and 80 MBit/s upstream is available.
Assuming both connections are defined as "primary" in the Speedify settings, otherwise the second connection is only used as a fallback or when the first is busy - which is not detected correctly in my setup.
Speedify not only provides for the bonding of multiple Internet connections, but also serves as a VPN with which the own IP can be disguised. Speedify advertises that no logs are created or otherwise an assignment of IP addresses of users to used IP addresses is possible.
DNS leaking is also to be prevented, you can specify your own DNS service, but this will then be requested by the Speedify DNS service - it cannot be bypassed.
You can only set a bypass for certain streaming services like Disney+ or Amazon Prime Video, which otherwise won't work with VPN services.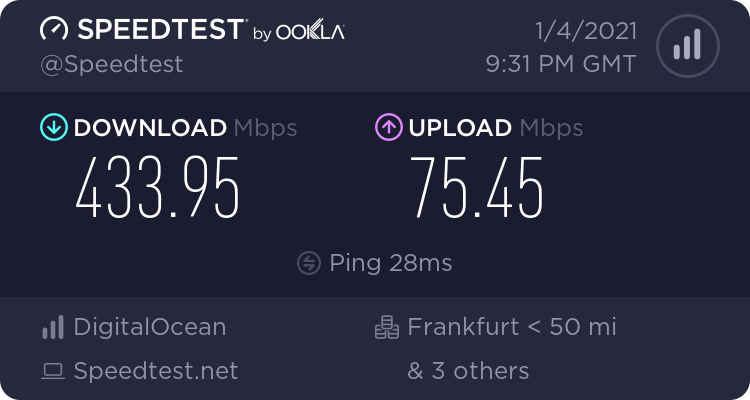 If you want to use Speedify with a WLAN connection and an iPhone, the iPhone must be connected via cable. The option to use the connection only when needed must not be activated:

What should also work according to the Speedify website: run the client on a Raspberry Pi and then share it on the network. I have not tried this yet, the setup would then rather correspond to the variant with OpenMPTCPRouter. In terms of speed, both variants are similarly fast.
Regarding the costs, you can currently (04.01.2020) get Speedify for a good 1.50 EURO per month (when paying for 3 years in advance). The own VPS for the complete self-build solution is more expensive per month. Additional hardware is not required, five devices can use the Speedify connection in parallel (only that one will not necessarily have a corresponding number of LTE devices for bundling).
Personally, I find the solution easier: no problems with different IP addresses, DHCP servers in the same network, etc. - just connect the phone via USB to the computer, start the Speedify client, done. For large downloads (especially games always reach larger data volumes) ideal, just as when you want to make an upload, where the server on the other side can process the data accordingly fast.