Travel routers are convenient devices that allow travelers to establish a reliable Internet connection no matter where they are. One of the most popular manufacturers of travel routers is GL.inet, a company known for its reliable and user-friendly devices. In this article, we will take a look at the different GL.inet travel routers and how they can be useful in everyday use. There are also practical experiences with the GL.inet GL-A1300, which I used during an extended stay in the Algarve in Portugal.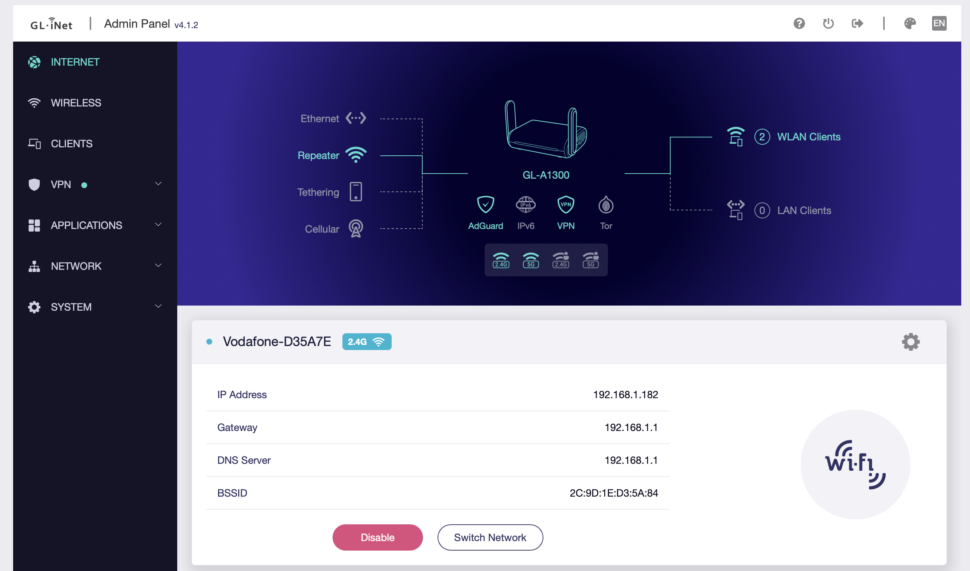 GL.inet? Do you need to know them?
GL.inet is a company specializing in the production of affordable and user-friendly travel routers. The Devices from GL.inet are known for their reliability, security and compatibility with a wide range of devices. The special feature: an existing WLAN can be used as Internet access and all traffic can be routed via a VPN connection. Unlike a do-it-yourself VPN gateway with a Raspberry Pi the GL.inet routers have WLAN and can set up a WLAN themselves.
The software base is OpenWRTEven if GL.inet puts a simple user interface on top of it, access to the original OpenWRT GUI is not barricaded but directly accessible.
Also handy: Adguard Home is directly integrated and can prevent advertising and tracking for all connected devices - very useful if you also want to connect a Fire TV.
Why use a travel router at all?
The name "travel router" explains it quite well: if you don't trust the local WLAN or Internet in your hotel or vacation apartment, it can be useful to set up your own WLAN with VPN, without having to take care of it yourself on every device. The VPN connection is also helpful if you still want to watch streaming services or the media libraries of the German public broadcasters abroad - they usually make sure that you cannot access them from abroad.
Why use a GL.inet travel router?
Easy setup: GL.inet travel routers are very easy to set up and can be up and running in minutes. Behind a simple user interface I hide OpenWRT, so you can also make a lot of detailed settings & easily install plugins.
Compatibility: GL.inet's routers are compatible with a wide range of devices and operating systems, including Windows, Mac, iOS and Android - and of course other WLAN devices such as Fire TV sticks
Security: GL.inet travel routers offer integrated security functions to protect your data from potential hackers. In addition, you can easily establish a VPN connection with Wireguard, for example to your home Fritz!Box, which also provides Wireguard from software 7.50.
What are the differences between the GL.inet routers?
Amazon and other stores list a large number of GL.inet travel routers, so it can easily become a bit confusing. The devices are continuously being developed further, new Wi-Fi standards are added and the computing power increases (which is important if you want to route all traffic via the encrypted VPN connection). Popular devices are the following:
GL-AR750: This router is a compact dual-band router with a high transmission speed and a long battery life. It has two Ethernet ports and a USB interface to connect a storage device.
GL-MT300N-V2: This router is the smallest travel router from GL.inet and is ideal for travelers who need a very compact device. It offers fast transmission speed and long battery life.
GL-AR750S: This router is an updated version of the GL-AR750 and has a powerful processor that enables faster transmission speeds. It has two Ethernet ports and a USB interface.
GL-A1300 (Slate Plus): the device I currently use.
GL-AXT1800 (Slate AX): basically the further development of the Slate Plus with Wifi-6 support and more computing power.
GL.inet Travelrouter: easy setup
Connect the travel router to a power source (you can also use the power supply of another device via USB-C).
Connect the router to the Internet source (either wired or wireless, in hotels you can also deal with the captive portal of the WLAN).
Configure the router settings, such as network name and password.
Connect your devices to the new network - 2.4 GHz WLAN and 5 GHz network are assigned different SSID.
Is the thread size sufficient?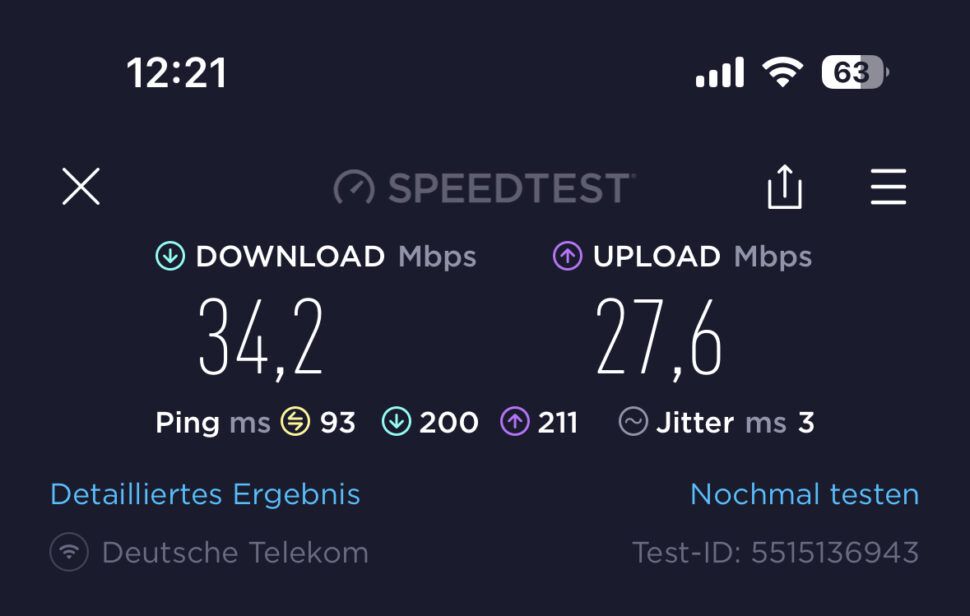 Of course, the Internet access to which the travel router is connected is the primary limiting factor. The second factor is the VPN remote terminal. If you use a VDSL connection like I do, the upload is the limiting factor here: Data packets have to be uploaded from the remote terminal when you request an Internet page or stream. In my setup, the limit is a good 35 Mbit/s, which is available in the WLAN of the GL.inet A1300 at the end, which is sufficient to stream in 4K - only live TV via the ZDF app led to dropouts from time to time, which appeared as soon as the stream was paused. However, you can work and surf the Internet with two people (smartphone + notebook) on a rainy vacation day without it being annoyingly slow or the connection dropping regularly.
What are the advantages of a GL.inet travel router in everyday (travel) life?
Travel: If you travel a lot, you can use a GL.inet travel router to establish a reliable and secure Internet connection no matter where you are.
Home Office: If you work from home, you can use a GL.inet travel router to establish a reliable and secure Internet connection.
Gaming: If you are a passionate gamer, you can use a GL.inet travel router to establish a stable and fast connection for online gaming.
Streaming: If you want to stream movies or music, a GL.inet travel router can provide a fast and reliable connection.
Overall, a GL.inet travel router can be very useful in everyday life for establishing a reliable and secure Internet connection. The devices are easy to set up and offer a variety of features that make them attractive for travelers and business people alike.
Conclusion: do we "need" a travel router?
You don't need your own router on every vacation - but it can be very practical to have one with you, e.g. if the hotel Wi-Fi only allows a limited number of devices or you want to easily access files at home. Or you just want to make sure that the data stream can't be tapped by the operator of the foreign WLAN without further ado.
On the other hand, if you prefer to do a digital detox on vacation or only have your cell phone with you, you don't need to buy a travel router.
Last updated on 24 September 2023 at 13:29 . Please note that prices displayed here may have changed in the meantime. All information without guarantee.