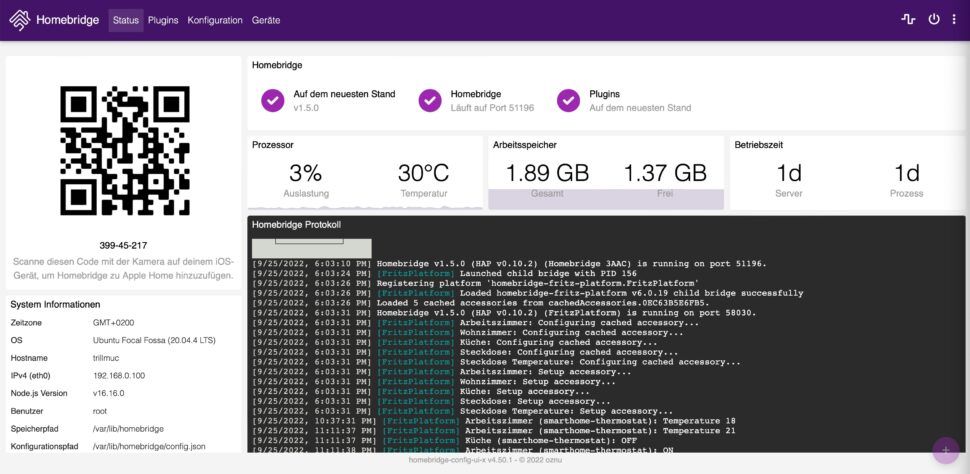 If you use an AVM Fritz!Box, you can also use it to control suitable Smarthome devices, especially smart radiator valves. The disadvantage: AVM does not support HomeKit integration out of the box, so practical functions such as turning off the heating after all the people in the household are no longer at home or other integrations into HomeKit scenes are not possible for the time being.
Fortunately, there is the open source community, which also has a suitable solution here: Homebridge.io. The software supports several thousand smart devices with various plugins, not only devices from AVM. An excerpt:
Homebridge allows you to integrate with smart home devices that do not natively support HomeKit. There are over 2,000 Homebridge plugins supporting thousands of different smart accessories.

Homebridge.io
Ring
Nest & Nest Cameras
TP-Link Kasa Smart Home
Hue / deCONZ (Zigbee)
Belkin Wemo
myQ
UniFi Protect
and of course AVMwhat this should be about
Homebridge setup for AVM thermostats
So far I have Fritz!DECT 301 and 302 thermostats, but bought some Eve Thermo valves this summer to use in conjunction with window sensors. However, in the end, I didn't want two separate systems, but wanted to use the AVM thermostats within Apple HomeKit automations and scenes.
What does not change: the approx. 15 minutes until changes are transferred from the Homebridge to the thermostats. So a window detection is not possible in a meaningful way, even if you use the Eve window sensors in a corresponding automation.
Homebridge.io can be easily installed with some Linux knowledge on a small PC or a Raspberry Pi (mine is running on a Odroid C2, with which I have already hosted this WordPress blog for a while) in a Docker container. After successful installation according to the Documentation you will be shown a QR code that can be used to integrate the new "Homekit Bridge".
After the setup as Docker container Homebridge is reachable on port 8581, a login can also be assigned so that not everyone in the network can change the configuration:
:8581
For the Fritz!Box, a "Sub-Bridge" is then configured once again, for this a user must be created and the corresponding data must be stored in Homebridge. Through this process, during the setup of the Fritz!Box plugins managed, for which there is a separate Documentation.
In addition to thermostats, other functions of the Fritz!Box can also be controlled with Homebridge: for example, DECT sockets such as the Fritz!DECT 200 adapterthe call list of the Fritz!Box or even the WLAN functionality of the router. All these functionalities can be integrated into Apple's HomeKit as a separate "device".
Homebridge in Homekit everyday life
How does the setup perform in everyday life after the setup? And do the devices connected via Homebridge work as usual?
For AVM's DECT socket, it's fair to say that it behaves exactly like an Eve Energy socket. I used it to time the balcony watering over the summer, which worked without dropouts and was easier than connecting the Fritz!Box to a Google calendar for time control. Also, automations via HomeKit to sunrise & sunset via Apple's HomeKit integration worked out fine. The additional power consumption is negligible in my setup, as there is no power consumption via the Odroid C2 also PiHole and DNS caching is provided.
Otherwise, Homebridge runs smoothly together with the AVM Smarthome devices, the basic specifications do not change - only the connection to Apple's HomeKit works, which definitely makes the setup and control easier (or at least consistent).
What are your experiences with Homebridge.io? Does it work as smoothly with other plugins and smarthome devices that are supported? Do you also use it to combine a Fritz!Box with HomeKit?
I will continue to run the setup here and follow the development over time: especially with open source projects like here, it can always happen that something falls asleep or the manufacturer of the proprietary part (here Apple & AVM) changes the software so that, for example, only certified HomeKit devices are allowed. In addition, you must of course trust the provider of the software, after all, this is about controlling devices in your own home.
Update: Docker container with Homebridge no longer starts - what to do?
After the last update of Docker, I noticed that the homebrige container does not start anymore. When I tried to start it manually, I got the following error message:
docker-compose up -d
[+] Running 0/1
 ⠋ Container homebridge Starting 0.1s
Error response from daemon: AppArmor enabled on system but the docker-default profile could not be loaded: running `apparmor_parser apparmor_parser --version` failed with output:
error: exec: "apparmor_parser": executable file not found in $PATH
After a short research I found out that "AppArmor" was simply not installed - apparently the requirements changed here with the last update. Briefly with
~# sudo apt install apparmor
After that, the Docker container with Homebridge could be started quite regularly again. That's the small disadvantage of open source solutions that are not developed by a manufacturer (although there can be problems there, too) - every now and then you have to tinker with it a bit and get everything working again.
Zuletzt aktualisiert am 28. May 2023 um 13:24 . Wir weisen darauf hin, dass sich hier angezeigte Preise inzwischen geändert haben können. Alle Angaben ohne Gewähr.