With the new "MagentaHome Hybrid" offer, Deutsche Telekom is introducing a combination of DSL and LTE - the bandwidths are combined as required.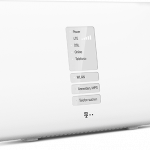 The prerequisite is a VoIP connection from Telekom, which can then be used for voice telephony in any case. The hybrid turbo always doubles the performance data of the underlying DSL connection: at 16 Mbit/s there is a corresponding 16 Mbit/s LTE speed, at 50 Mbit/s and 100 Mbit/s there is also a doubling. This applies to both download and upstream.
This requires a router that can combine the bandwidths accordingly. Telekom offers a Hybrid model from Huawei, which costs either 9.95 euros per month or 400 euros once - a lot of money, a Fritz!Box 7490 is available for half (but without hybrid function). The Freedom of choice between different routers one gives up with such a tariff however to a large extent.
Why Deutsche Telekom offers fast Internet access (a VDSL connection with 100/40 Mbit/s can be described as fast today) through Hybrid Technology even faster, but no unchecked LTE connections for rural areas remain incomprehensible. The price is quite good, though - you really have to pay a lot of extra for Hybrid function do not pay, the most expensive tariff costs 39.95 in the first year and 44.95 thereafter. This is the level of older VDSL tariffs at 50/10 Mbps.
All information can be found on the "Magenta Home Hybrid" page - apparently Telekom believes that LTE networks are ready for such data connections, practice will show if this is true. The technology is currently available in North Rhine-Westphalia, Lower Saxony, Bremen, Hamburg, Schleswig-Holstein, Mecklenburg-Western Pomerania, Brandenburg and Berlin, and will be available nationwide from the beginning of 2015.