After I was still very happy with my Beyerdynamic MMX 300 bin (home) and also the much cheaper Ultrasone Pro 450 (office) now have another opportunity for comparison with the Bose SoundTrue Around-Ear headphones.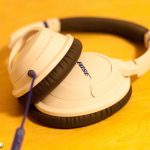 All three headphones have a slightly different target group: the MMX 300, as a headset with a microphone, is intended to appeal most to audiophile gamers, the Ultrasone Pro 450 is significantly cheaper at one third of the price, and the Bose SoundTrue headphones are rather designed for mobile music enjoyment.
In terms of price, the three models cover a wide range from 100 Euros (Ultrasone Pro 450), to currently a good 150 Euros (Bose SoundTrue) and up to 300 Euros (MMX 300). Due to the "entry price" of a good 100,- Euro in this comparison, one can no longer speak of cheap headphones for every occasion, all headphones promise a balanced and good sound. But do you hear the differences and where are the strengths and weaknesses of the individual models?

Comfort & Weight
This is where the Bose SoundTrue clear: with 170g, they are comfortable to wear even for longer periods of time, and the temple does not exert too much pressure on the head - headaches caused by wearing alone should not occur. In terms of weight, Beyerdynamic MMX 300 and Ultrasone Pro 450 are in a similar league, both are large headphones that really surround the ear completely and are quite solidly built. The advantage of the heavier model: even when listening to loud music, nothing gets outside and disturbs the people sitting next to you.
Bose SoundTrue: Sound and playback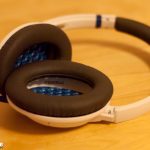 First of all: I have no trained hearing and I am not a professional headphone tester, so these are subjective impressions. For comparison I only have the mentioned headphones at my disposal, which are fired by an Astro Mixamp. If the headphones are not available, I use Behringer MS40 Monitorswhich have a quite neutral sound and do not distort anything.
In direct comparison between Beyerdynamic MMX 300 and BOSE SoundTrue a certain disillusionment sets in: the sound is simply not quite as present and clear as with the MMX 300, even if no details are missing. With songs like "Paradise City" by Guns N' Roses, you notice such differences quite clearly, the sound impression is not so "central". But here it depends on the personal preferences, the screening is very good, so that you can enjoy music on the bus or subway without any problems.
Bose SoundTrue: Conclusion
If you are looking for a high-quality headphone for on the go that is compatible with Apple devices, the Bose SoundTrue Around-Ear a good offer. On the other hand, if you're looking for completely uncompromisingly neutral sound reproduction, you should look around for a different pair of headphones, e.g. the Beyerdynamic T51i. In any case you should try the headphones, for example in the local Media Markt. For me personally, the Bose headphones are not the right product, I'm probably already too used to the neutral headphones - a change to a different listening behaviour is of course difficult.