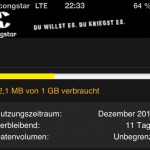 Smartphone users know it: current contracts usually contain only a limited volume with full data transfer rate, if this is exploited it will be throttled. Deutsche Telekom now wants to apply the same principle to the fixed network: depending on the line, throttling will take place above a certain volume - contracts concluded from May 2, 2013 onwards will contain appropriate clauses; Deutsche Telekom itself assumes that throttling will not actually take place until 2016. Before then, it should be possible to check your own data volume via the web interface to get a feeling for whether you will be affected by the throttling.
Not surprisingly, the Announcement by Telekom to an outcry: it is precisely the point of lacking net neutrality that upsets many people. Because: Telekom's own services, IPTV and VoIP (of course only from Telekom) are excluded from the volume calculation and throttling. Other services such as YouTube, Watchever or Steam-Downloads, on the other hand, count as volume, and equal treatment of the various services is not guaranteed.

The limits for the individual line types of Telekom
Tariffs with speeds up to 16 Mbps: 75 GB
Tariffs with speeds up to 50 Mbps: 200 GB
Tariffs with speeds up to 100 Mbps: 300 GB
Tariffs with speeds up to 200 Mbps: 400 GB
Especially the 75 GB with the 16 MBit/s DSL connection should be quickly reached in times when a game via Steam or Origin is already over 30 GB in size. The only practical solution is to postpone larger downloads until the end of the billing period. The use of cloud services such as Dropbox will also be restricted as a result.
It will now be interesting to see how customers actually react (the first shitstorm on the net, which is currently raging, will certainly die down) and whether competitors will take the same line and follow suit. Unfortunately, this is to be feared, at least if the Telekom does not cause a significant decrease in new customers with its strategy.
Update: Simulator for 384 kbit/s
Fortunately, since most of them don't remember speeds as they are provided by Telekom with the throttle when the limits are exceeded, Chip.de offers a corresponding "simulator". Basically it is a proxy that is limited to a fixed speed. Who wants to try it, can use the Download Tool "Charles" here.