Sony is bringing Android 4.4.4 for the Z1 Compact - with that Sony is quite exemplary concerning updates and delivers the current Android version for the small high-end smartphone before the corresponding update for the flagship Z2.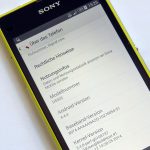 Currently the update is being rolled out - bit by bit it will be available over-the-air on all devices, even if it is not yet clear when this will be the case and what exactly the changes of the new version are. Like Android 4.4.3, 4.4.4 is also a bug-fix release, which is intended to fix various bugs.
Sony delivers the update according to the XperiaBlog first in Italy, Russia and Indonesia - but it can be assumed that it will also come to Germany, corresponding reports from the Phone meeting.de forum also suggest this. The brave ones can also download the update from the XDA Forum and then transfer it to the mobile phone with the flash tool. However, this can cause data to be lost, so a backup is important. The software version 14.4.A.0.108 has also been certified for the Xperia Z1 and the Xperia Z Ultra, but it is not yet known when it will be rolled out.
It is to be hoped that Sony will be as fast with the upcoming Android version as they are with the updates: after all, it's not just about bugfixing, but also about new features. More about the Sony Xperia Z1 Compact can be found in my Hands-On.