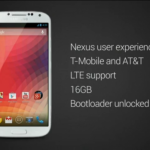 Many people interested in Android smartphones are disgusted by the interfaces that the manufacturers put on their devices. This is also the case with the current Samsung Galaxy S4, which is an impressive smartphone in terms of hardware, but would be even better if it were quickly updated by Google or if it came without the TouchWiz interface installed by Samsung. At the Google I/O 2013, Google has now announced such a device: the hardware of the Samsung Galaxy S4 paired with direct software support from Google as with the Nexus devices.
Google promises the "Nexus experience", the hardware of the Samsung Galaxy S4 from Google will be Information on Golem.de the well-known version with SD-Card-Slot and Qualcomm-SoC, LTE and 2 Gigabyte RAM. The display also remains the same as the 5-inch model with full HD resolution. Unlike the LG Nexus 4, the Galaxy S4 with "Nexus experience" will have physical keys so that no display space is lost. Samsung-specific functions will not be included in the device distributed by Google.

For the time being, Google will only offer the Samsung Galaxy S4 via the Playstore in the USA. Unfortunately, the price will not be at the level of the last Nexus devices: the 16 GB variant with LTE will cost 650 US dollars. Unfortunately, cheaper street prices are not to be expected here as there are no other distribution channels. At least the availability is expected to be better than with the LG Nexus 4, which at least in the beginning was hardly available: Samsung has more capacities and the price is much less attractive. Should the device be a success, it is to be hoped that there will be other devices like the HTC One with "pure" Android.