Many customers have been waiting for this: With today's update Netflix has unlocked the ability to download movies and series.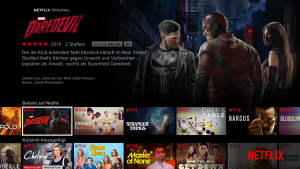 Suitable for the announcement of the railway, in which 2. class throttle the WLAN after only 200 MB data transmission Netflix has announced that selected movies and series can be downloaded to the device.
The selection seems to be quite tidy, not only Netflix productions are offered, but also series from other producers. Netflix advertises that downloaded content can be played at other locations or while on vacation, so the location check for rights seems to take place during download.

Netflix moves with it Amazon Prime Video and the soon to be discontinued Watchever service - here it is also possible to download individual episodes or films for offline use. This feature has been long awaited by Netflix customers, as it provides the ability to watch your favorite show on the go.