Streaming services are becoming more and more popular - I personally hardly use "normal" television anymore when it comes to evening entertainment. How are other readers doing here?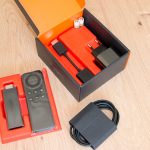 Whether Netflix, Watchever or Amazon Instant Video - There are plenty of streaming services. Netflix & Amazon rely on self-produced content to attract new customers. This business model, which is already being used successfully by cable network operators in the USA (especially HBO with series such as "Game of Thrones"), should also help streaming services to achieve a final breakthrough: Netflix is relying on "House of Cards" with Kevin Spacey, Amazon stops with series like "Bosch" against.

Streaming without problems - with fast Internet
The basic prerequisite for problem-free streaming enjoyment is a fast Internet connection. Both Amazon and Netflix require a constant 6-10 Mbit/s for good quality. If the receiving device is connected via WLAN, it should also work as fast and stable as possible. I use a Fritz! Repeater 1750Eto provide the WLAN in the whole apartment in a stable way.
If you use a device like the Amazon FireTV box or the Amazon FireTV stick, you can get the streaming very comfortably to any device with HDMI input. Alternatively, you can also use a Playstation or Xbox as a client for many services. I would advise against using a PC. There are plugins for Kodi, but they don't seem to work really reliably and stable.
Conclusion: hardly any normal television anymore
Since here in the house convenient streaming via Fire TV StickAmazon FireTV there was hardly any normal television left. The advantages of streaming outweigh the disadvantages: without advertising, you can watch the content you want to watch. If you do want to see what's on live television (e.g. a TV sports broadcast), you can still rely on a solution with Kodi and TVHeadend use. This also works on the Amazon boxes.
Update from 10.05.2015:
The Netflix boss Reed Hastings has Interview expressed his opinion on the development of the television market in Germany: he considers the "prime time" concept and television channels in general to be a phased-out model. For example, Netflix is responsible for a third of the evening network traffic in the USA - this should also be the case in Germany in a few years.