Now that I've switched to a Sony Xperia Z1 Compact, the Moto G is supposed to replace an iPhone 3GS - which is a clear thing, since the entry-level android is much faster.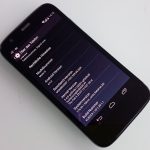 But first, let's compare the Sony Xperia Z1 Compact and Motorola Moto G. At first glance, the two devices look similar, the 4.3″ display on the Sony is contrasted by a 4.5″ display on the Motorola, both with 1,280×720 pixel resolution. Both devices also dispense with physical buttons but rely completely on Android functions.
But that's where the similarities end: while a quad-core A7 SoC operates at 1.2 GHz in Moto G, the Snapdragon 800, also equipped with four cores, operates at 2.15 GHz in the Sony Xperia Z1 Compact.

But the clou is: in everyday use, you notice relatively little of the additional performance in Xperia: apps start a little bit faster, but the big "aha" experience of switching to the nominally much faster device doesn't happen. Only in situations where the CPU is required, for example when editing images, is there a clear advantage for the high-end device. Here once again the strengths and weaknesses of the Moto G summarized:
Positive on the Moto G:
Current Android version 4.4.2 with ART support (beta)
good display size (4,5″), so that device size is not too big
Sufficient power for all everyday tasks
interchangeable rear panel
relatively inexpensive price
Negative on the Moto G:
no memory card slot
no LTE & NFC
Built-in rechargeable battery
only 5 Megapixel camera
Of course there are no points like the update policy included here now - time will show how Motorola deals with this and if older devices will still be equipped with new Android versions.
Conclusion Motorola Moto G
After a few days it can already be said: Motorola has actually managed to put an Android smartphone with a very good price-performance ratio on the market with the Moto G. The total package is round, if you want more performance or features you have to spend considerably more money, in the price range between 170 and 220 euro there are otherwise only few devices with Android 4.4.2, quad-core SoC and 720p display. In addition, there are useful software enhancements, such as Motorola Assist, with which time-controlled profiles can be set up very easily.
Whose interest in the Moto G has now been awakened can get the Motorola smartphone from Amazon: