Google's chromecast HDMI stick, which can be used to turn virtually any television into a smart TV, is now also available in Germany.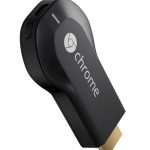 The available services have been adapted to the German market: instead of Netflix, which is still not available in Germany, there is Watchever and Maxdome. Apart from that, the functions have remained the same: Youtube videos can be played directly, Chrome can play browser tabs with the appropriate Extension "cast".
But Google Chromecast is not directly comparable with Android TV boxes like the MyGICA ATV1200but still needs an additional device for control. This could be an Android phone or an iOS device - Google does not make any basic restrictions. Apps for Chromecast can be created based on the corresponding SDK.
Interested parties can order Chromecast for a low 35,- Euro from Amazon. Alternatively, Google's Chromecast is also available at MediaMarkt (also for 35,- Euro). It remains to be seen how the ecosystem around Chromecast will develop and which apps will still benefit from it.