If you are looking for an Android smartphone and don't want to spend more than 200,- Euro, you will stumble upon the Motorola Moto G sooner or later. I bought it and will record my experiences in a multi-part diary.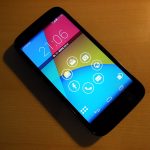 The equipment is impressive: Motorola accommodates 1280×720 pixels on a 4.5″ display diagonal, which corresponds to a dot density of 329ppi. Driven is the Moto G from a Qualcomm MSM8x26 Quad-Core A7 with 1.2 GHz and an Adreno-305-GPU with 450 MHz - as far as I can judge on the first day, this is enough to get all important functions done fast enough.
The equipment is rounded off with the following key points: HSPA+ with 21.1 Mbps download and 5.76 Mbps upload, GPS and GLONASS, 1 GB LPDDR2 RAM, 5 megapixel camera with photo light and a 2070 mAh battery.

Current Android 4.4.2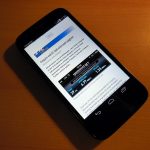 Motorola, as a (currently still) Google company, relies on a current Android, which was installed at the time of purchase Android 4.4.2 "Kitkat" - other manufacturers still have significantly older versions in their range. Although it is still open how Motorola will take care of the updates in the future, version 4.4.2, for example, currently brings support for ART - Apps start much faster with it and the battery life should improve, but they use a bit more memory. ART has not been officially released yet, you have to activate the new Android runtime in the developer settings. Users, who fear app crashes, should not activate it.
Launcher: SmartLauncher Pro
I have currently signed up for SmartLauncher 2 Pro decided - nice and clear and he has no unnecessary frills on board. For me, it is currently the best solution to get away from the somewhat boring standard launcher.
Conclusion 1st day
After a good day's use, I have to say Moto G is really a good smartphone for the money. I was really sceptical whether after several years in the Apple world and a not so successful trip into the Android universe with a Samsung Galaxy Nexus the Moto G would convince me, but: Motorola really offers a good overall package. The next days and weeks will show if the good first impression will be confirmed.
Whoever wants to buy the Moto G with 8 GB or 16 GB can do so at Amazon (prices from 11.03.2014):