For the LTE version of the Moto G LTE (1st Gen., 2013), there seems to be no Android 5.0.2 available, but Motorola is going directly to Android 5.2 - the update will probably come a bit later.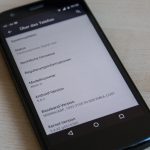 There are supposed to be tests with Android 5.0.x on the Moto G LTE in different regions, but Motorola has not been able to make any progress. Androidpolice.com decided to omit this version and immediately upgrade to the current version 5.1.
Unfortunately, it is not clear when the update will be released - Motorola is still among the Android smartphone manufacturers with the fastest updates, but even these are not as good as the Google's Nexus devices ...clearly. From the user's point of view, it would be advantageous if the updates could be installed for all devices in one day, as is the case with Apple - at least for devices from one manufacturer, if you can't bring all Android devices up to date. Android still has some disadvantages regarding the ecosystem.
But for Moto-G users it also means Android 5.1 is used for both the Moto G LTE as well as for the normal version. In principle, not bad for a device that was launched in 2013 and is therefore almost two years old - on the smartphone market, that's almost an eternity. The Moto G of the 3rd generation, which is to be released this year and will have a much more powerful processor, is also casting its first shadows.