Telekom enables its customers to use LTE data networks in other European countries. This is also possible with Congstar, at least in Italy.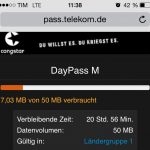 If you have a Congstar tariff that allows you to use Telekom's 4G network in Germany, it seems that you can also use the Roaming use. The speed is limited to the same limit as in Germany - more than 7.2 Mbps are therefore also not possible abroad. Otherwise the procedure is as usual, you book a data package (e.g. 50 MB for 24 hours) which is then used up relatively quickly.
What is still missing are larger data packages - with 50 megabytes you won't get very far even if you surf carefully and use Google Chrome with data compression. But to upload a picture to Facebook it is enough, here you profit from the higher speed. Abroad it is still more advisable to use a Wifi connection - this is then of course protected by a VPN connectionotherwise you might as well hand out stickers with your passwords. Or if it's a holiday trip, you could do without the Internet altogether - it's usually the best way to relax.
The Congstar website does not provide any information, as it does for Lte use in Germany, but the same rules should apply as published by Telekom on its homepage: "Surf faster abroad with LTE".