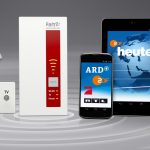 Router manufacturer AVM has presented a repeater at IFA 2013 that can distribute the television signal of a cable connection (DVB-C) in the network in addition to the WLAN signal. Although it is not yet clear when the device will be launched on the market (AVM is talking about the first quarter of 2014), it should be practical in a number of situations. Especially here in Munich, where the RTL group's channels can no longer be received via DVB-T, it would be practical to have more channels available again in the other rooms of the apartment.
The AVM Fritz!WLAN Repeater DVB-C can be purchased for 99,- Euro at Amazon ordered - a good year after the first performance.
According to the press release, AVM uses the SAT-IP standard (Cenelec prEN 50585), VLC, MXPlayer or Goodplayer can be used as clients, so that Android TV boxes like my ATV1200 can work as a receiver. An existing FRITZ! box should automatically recognize the repeater.

The FRITZ!WLAN Repeater DVB-C supports Free TV programs and also HD - encrypted or Pay TV programs are not included, which may limit the possible applications. There are also sceptical opinions regarding the use of unofficial receivers on cable connections - it remains to be seen how AVM has solved these problems, but it can be assumed that people have thought about it. Also the price is still open.
Update July 10, 2014:
Apparently AVM was a bit hasty with the introduction of the DVB-C WLAN repeater, but now it should be released until September. So almost a year would have passed since the introduction. At least the price is now known: for 119,- EURO the AVM DVB-C-Repeater should be available in the shops.
T3n.de talked to an AVM spokeswoman at the IFA about the new FRITZ!WLAN Repeater DVB-C spoken:
Update 10-08-2014:
After more than a year, AVM has finally managed to bring the DVB-C repeater into the shops: for 99,- Euro you can order the DVB-C adapter, which is also a WLAN repeater and can extend the range of an existing WLAN, at Amazon:
According to first reports, the device also works with XBMC as a client - so you can also use FireTV as client without having to use the app provided by AVM.