As announced at the keynote last week, iOS 8 has been released today. Devices starting with iPhone 4S will benefit from the new iOS version.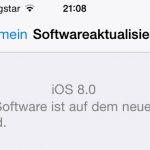 The download servers of Apple had been equipped with iOS 8 a lot to do: at times the update was not feasible, because no connection to the update server was possible
iOS 8 is available for Apple devices from the iPhone 4S (although installation on the good three year old device is not recommended because the hardware is simply too weak) and for tablets from iPad 2. Visually, there are hardly any differences to iOS 7: the flat design introduced with the iPhone 5S is kept, the changes are in the details.

Probably the most exciting innovation in everyday life: Apple lets go iOS 8 also includes third-party keyboards - the iOS-8 keyboard now suggests words, which works quite well. This makes typing messages and emails much easier, especially when typing with one hand.
When's the jailbreak?
With every new iOS version a new jailbreak is required. So far, only the Evad3rs group has reported that iOS 8 is not yet "safe for jailbreak":
The question is: does a iOS-8 jailbreak? Does it come directly to a untethered iOS 8 Jailbreak? Will the possible jailbreak also work directly for the iPhone 6 or has Apple taken other security precautions here. Especially with regard to Apple Pay, a jailbreak has to be seen critically: on the one hand, a jailbreak is always a sign for an existing security hole, on the other hand, running apps that have not been tested by Apple (which is the main reason for a jailbreak) can cause security problems.