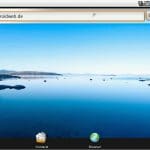 After the Nexus One comes the Nexus S, which was introduced today. The new Google phone is manufactured by Samsung, has a 1 GHz Hummingbird processor and a display with 800×480 pixel resolution. Most important new feature: Android 2.3, which is said to be even faster than the current Android 2.2. Also new in Android-OS: Support for gyroscopes (a three-axis model is built into the Nexus S) and for Near Field Communication (NFC).
This makes the new lead model for Google's Android official: not HTC anymore but Samsung builds the new device, which seems to be quite similar to the Galaxy S. As always with the official Google devices, the Nexus S is supposed to provide the "unadulterated" Google Android experience.
The question now is when other devices will also benefit from Android 2.3 - so far, Android 2.2 is available for all devices again, and there is no sign that this will improve.