iXsystems has released FreeNAS 11.3, the latest version of the free NAS operating system. With FreeNAS an existing x86 system can be turned into a network attached storage with different plugins and shares. The ZFS file system is used, which together with the FreeBSD substructure offers a wide range of possibilities.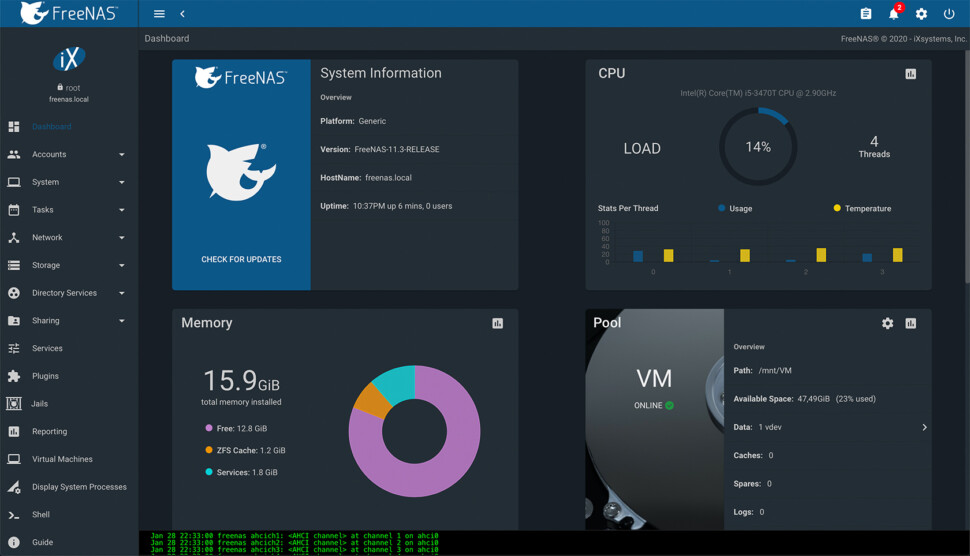 I myself use FreeNAS on a HP Microserver Gen8 and on a Microserver N36L - to the second device the data for Replication to enable an offsite backup.
The main features of FreeNAS 11.3:
ZFS Replication: >8X performance, Parallel tasks, Auto-resume
Simplified Setup with Wizards: iSCSI, SMB, Pools, Networking, Replication
SMB improvements: user quotas via AD, shadow copies, ACL manager
Easier Plugins: UI redesign, Categories, NAT reduces IP addresses
Dashboard and Reporting: Faster response, more relevant data
Configuration Management: API enables config save and audits
WireGuard VPNs: Secure networking to remote systems
TrueNAS: Graphical enclosure and High-Availability management
With improved replication and integrated support for Wireguard a setup with several devices can be easily set up.
More information and the download is available on freenas.org or via the update function integrated in FreeNAS.