A few years ago, Fyve and Congstar were exciting alternatives in the networks of Vodafone and Telekom. Without current options, however, these providers are becoming increasingly unattractive.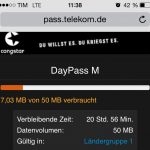 Was it possible, at least with Congstar for a while, to use postpaid tariffs to use LTEthe provider operating in the Vodafone network Fyve ...that possibility never existed. Other prepaid providers who do not directly offer LTE to the brands of the major network operators are also unable to offer LTE at present, although there is now a wide range of end devices. Even for less than 100 euros, for example, there are devices such as the Lumia 550.
Also not available - and not foreseeable - is the support of various convenience features such as Visual Voicemail on Congstar or the newly added "All Inclusive" OptionsThis allows the use of the booked units in other EU countries as well, both with the Telekom Magenta 5.0 tariffs and the Vodafone Callya Smartphone Special Prepaid tariff. Congstar does not have any plans or information as to whether this option will also be introduced:

In the field of prepaid cards, Vodafone currently seems to offer the best all-round carefree package: 750 megabytes of data volume with LTE Max (at Vodafone this currently means 225 Mbit/s download and 50 MBit/s upload), 200 minutes or SMS to all networks as well as the possibility of using these in other EU countries. Neither Deutsche Telekom nor O2 currently offer the possibility of using prepaid packages booked in Germany abroad.
At Telekom in particular, I fail to understand why the brand Congstar will not be further expanded. Although it is understandable that LTE is not offered at full speed, at least the use of the LTE network with 7.2 Mbit/s would still be better in terms of network coverage than the restriction to UMTS and EDGE.
In general, the mobile communications market will certainly provide additional offers as a result of the EU's decision to abolish roaming - Congstar will also have to orient itself to its competitors. What still needs to be improved: the data volumes that can be used in the respective "flat rates" until the throttling comes into effect. There is definitely still some catching up to do here.