If you are looking for a cheap LTE smartphone, you should take a closer look at the Microsoft Lumia 550. The entry into the Windows 10 Mobile world offers everything you need for under 90,- EURO.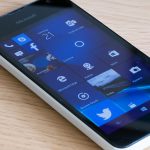 Most entry level mobile phones work with Android - Apple is clearly to be seen in the high price segment, Microsoft offers an exciting alternative here with an operating system that offers a clearly different operating concept: Microsoft relies on tiles, which were introduced on the desktop with Windows 8 (and fortunately only survived there in the start menu). The idea behind the tiles: they can also display information directly, e.g. the most recently accessed photos or notifications about new e-mails, tweets etc. So the tiles (or "tiles") can do much more than the app icons under iOS or Android, which only show the number of notifications, but don't really provide any dynamics.

Lumia 550: Hardware
Windows 10 Mobile runs well even on relatively weak hardware, Microsoft has developed a new version for the Lumia 550 but really chose the minimal equipment:
CPU: 1.10GHz Cortex-A7 (Qualcomm Snapdragon 210), 4 cores
GPU: Adreno 304
RAM: 1 gigabyte
Memory: 8 Gigabyte + MicroSD slot
Display: 4.7 inch, 1,280×720 pixels
Rear camera: 5.0 MP, f/2.4, AF, LED flash
Front camera: 2.0 MP, f/2.8
Network standards: GPRS, EDGE, HSDPA, HSUPA, HSPA+, LTE
Microsoft packs the whole thing in a plastic case, where you can simply remove the backside to get the SIM card and the exchangeable battery. The back can also be exchanged (for approx. 15,- EURO you can get spare parts at Amazon).
Lumia 550: Software (Windows 10 Mobile)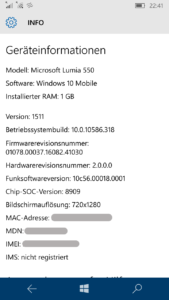 Similar to Apple, Microsoft delivers updates directly itself - both for the basic operating system and for individual apps. There is no software fragmentation like Google Android, especially not with a mobile phone that comes directly from Microsoft.
When you use it, you will notice that it is Lumia 550 is an absolute entry-level model: although the interface is quick to use in principle, more extensive apps such as the maps require a short commemorative second before they start. The CPU seems to be the main limitation here, four cores with only 1.1 GHz clock speed are a bit low.
Very well solved is the connection to the various Microsoft services: OneDrive is available as a cloud, the connection to Exchange servers for e-mails and contacts is possible without any problems (I use a hosted exchange from DomainFactory) Video telephony can be done via Skype. In addition, there are apps directly from Microsoft for editing office files (Word, Excel, Powerpoint etc.).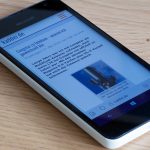 The Edge Browser also works smoothly: scrolling is just as smooth as on the much more expensive iPhone 6S. Unlike Apple, Microsoft does not offer an interface to Adblocker into the system.
Windows 10 Mobile: third-party apps
Compared to iOS and Android, there are significantly fewer apps for Windows 10 Mobile: although there are standards such as Facebook, Whatsapp or Twitter, the total number of apps is significantly smaller. Of the apps that I use regularly, I would only use iOutBank and TankTaler are missing. For games or special apps, however, the offer in the Microsoft Store can be too thin - developers tend to focus more on the other platforms because there are simply more users there.
Of course, it is difficult to make a recommendation for apps, since every user has his or her own requirement profile - but the essential requirements of the Internet, e-mail and social media are also Windows 10 Mobile fulfilled.
Conclusion Microsoft Lumia 550
Microsoft has not been able to establish itself properly as a smartphone manufacturer after the takeover of Nokia alongside heavyweights such as Google and Apple. The handling is well thought-out and pleasant, the speed is okay for a device of the 80-EURO class. I will keep the device for now, just to have this system available for testing 🙂