If you are looking for an exclusive and eye-catching case for your iPhone 5, you should check out the miniot iWood 5 take a closer look.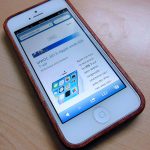 Made from one piece of wood, it offers a pleasant feel and a really good finish. Miniot is based in Holland and only manufactures with certified wood from controlled cultivation - so you don't have to worry that a piece of rainforest was cut down for your own phone case. Thanks to the really fitting workmanship, all ports and sensors of the iPhone 5 Even the cutout for the camera is designed accordingly and slightly stepped. Special feature: the volume buttons and the power button are also made of the same piece of wood, so the look is really complete.

Before I get too carried away: the price is 79,- Euro plus shipping (via FedEx, which was really fast) for a phone case is a proud price. And of course it's not a completely impervious case, the wood is hard but not indestructible. So over time there will be wear and tear, but that doesn't detract from the overall look of the iWood 5 cover shouldn't do any more harm. And that iPhone 5 is of course somewhat thicker and heavier due to the cover - but it remains pleasant to use, especially in landscape format it is (for me) somewhat better to grip.
Update from 26 March 2015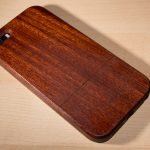 After a good year and a half of use (and in the meantime with an iPhone 5s, which also fits without problems) you can see some signs of use on the iWood cover: the wood has become noticeably darker, the surface is duller in some places. The wood seems to be most sensitive at the headphone jack: a small corner broke off here, but this did not affect the overall stability.
In summary I can say: although the Miniot iWood cover not a cheap purchase, but the otherwise replaceable iPhone gets more character. After the release of the iPhone 6 or iPhone 6 Plus, there are also suitable cases for the current Apple model. The price has remained the same, starting at 79,- Euro you get an iPhone 6 wooden case from Miniot.