If you own a MacMini, you may have noticed that the standard HDD is not very fast - and is also clearly audible. The solution: the installation of an SSD. Unfortunately not provided by Apple, therefore a bit more complicated.
I'm talking about a MacMini Late 2012 with a 2.3 GHz quad-core (Core i7) and 8 gigabytes of RAM - the middle model. Unfortunately, when I bought it used, it was only equipped with the standard HDD and not with the FusionDrive offered by Apple, which combines an SSD and an HDD into one logical drive and thus provides more performance. Unfortunately the MacMini is not easy to upgrade, except for the RAM, because of the small case. In principle, however, two 2.5-inch hard disks fit into the case, and the MacMini Server is built in the same way.

There are different instructions to manage the conversion, I have followed the Manual held by iFixit - according to the illustration the conversion is easy to manage. Nevertheless, it must be pointed out that the warranty is lost when the hard disk is replaced. I decided to buy a Samsung 840 EVO, with 250 GB capacity - with this SSD the price-performance ratio is convincing, you get it for about 150 Euro at Amazon.

Conclusion and TRIM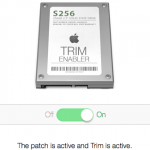 After my first SATA cable unfortunately had a defect and I had to order a new one (can happen, in the meantime I had decided to use the MacMini only with the SSD anyway) I needed a few tries until everything worked. But after a few tries you get routine and the disassembly/assembly of the Mac is fast and safe.
Since Apple actually plans TRIM only for own SSDs, you still need the TRIM Enablerwhich in the full version costs another 10 US dollars - but it is a sensible investment.
At the end of the day, after upgrading with an SSD, you get a much quieter and, above all, much faster MacMini - it's definitely worth it, especially if your Mac no longer has a warranty.